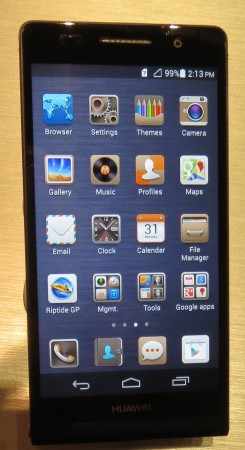 Beauty is worth waiting for, according to Huawei who announced their new Ascend P6 Android phone yesterday in London. I was there to represent Coolsmartphone, which meant that I got to have a play!
Beauty is in the eye of the beholder, is a more common term.  I have to say that beholding a P6 today chimed both sayings in my head.
I personally think it's a great looking handset, with its 'impossibly thin' chassis, brushed metal finish, and a choice of black, white or pink finishes (is it wrong that the pink one was my favourite? Thought so…).
However, it does look rather similar to a certain fruit flavoured handset iShall not name, and I can see why that would put some people off.
Tech Specs
1.5GHz quad-core processor
4.7-inch high definition in-cell display
5MP front-facing camera
Android 4.2.2 operating system
2000mAh battery
Ultra slim at 6.18mm
Weight about 120g
8MP rear-facing BSI camera with F2.0 aperture
MagicTouch screen, for enhanced screen responsiveness even when wearing gloves
Price: 449 Euros SIM free or about £25 on contract.
Release date: to be available in 19 countries including the UK by the end of July, and over 100 countries by the end of August (although I was told that everything is in place for them to launch tomorrow in the UK if needs be)
There's no LTE included on the P6, however Huawei CEO Robert Yu did say there would be one in the future. When I quizzed one of the UK product development team further on this he said that wasn't meant to be announced because it's still in development, so dates and prices are far from decided.
I also asked about why the MicroSD card fits in using a tray, rather than just a slot. I was told that there are plans for a dual SIM version without expandable memory which would utilise that tray. I can't see that coming to the UK though.
Here's a video of what I thought of it in the flesh. (Please excuse the audio quality. There was a DJ banging out tunes so loud that I couldn't hear myself speak, so I think my mic did quite well under the circumstances!)
I guarantee that the first thing that strikes you about the P6 will be the weight. Well, actually the lack of weight. It feels like it's empty it's so light. There were gasps around he room as each member of the media picked up the display handsets for the first time.
It's dangerously close to being too light. When I was speaking to my friendly product developer I was told that the lack of weight was discussed and it was decided that it would feel tacky if it wasn't made very sturdy. He then proceed to twist his P6 as if he were ever wringing out a rag. It didn't creek, bend, or show any signs of weakness. Samsung, take note!
Once I got used to the weight I found that it sat in the hand rather well. All the buttons were in just the right place and with a 4.7-inch screen it's not too difficult to use one handed.
Here's a more in depth look at the edges and ports of the phone:
As one would expect from a 1.5GHz quad core device with 2GB RAM, it was speedy and I couldn't detect any lag, despite the fairly heavy skinning known as Emotion UI. Speaking of which, this is a new version of Emotion (v 1.6), which contains masses of fun and fancy themes, widgets and tools. The one that was focussed on in the presentation was the 'Me' widget. This is a sort of multi-all-in-one widget that lets you gather together all the relevant information to you in one place. It seemed to work pretty well, although I think I'd prefer the flexibility of individual widgets. Here's a video to see what it looks like:
The Ascend P6 is obviously aimed at the fashion market, but Huawei have realised that people in that market still demand high end performance these days. The guts of this pretty little phone are very similar to the Ascend P2, meaning there's a definite overlap in their range. At the 449 Euro price point I can see it appealing to just as many 'power users' as 'fashion users', so they could be on to a winner.
Here're some of my snapshots of the handset and official cases.

We are due a review model from Huawei soon, so stay tuned for the full Coolsmartphone rundown.