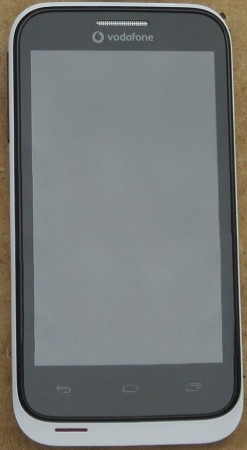 The Vodafone Smart III is a budget Android phone (real name Alcatel 975), designed to introduce the world of smartphones to those who haven't discovered it yet. It's fun, colourful and comes with some innovative thinking behind it. However, does it justify its £95 price point on pay as you go?
Good
Tries to be different
Notification LED
Video wallpapers
Quick start guide
MicroSD card slot
Bad
Camera
Lag
Graphic sheets don't quite work
Tech specs
Display: 4″ 480×800, WVGA, capacitive
Processor: 1 GHz Cortex A9
RAM & Internal memory: 512 MB + 4GB
Camera: 5MP, Auto Focus, LED Flash
Battery: Li-Ion 1500 mAh
Operating system: Android 4.1 Jellybean
Dimensions (mm): 123.2 x 64.4 x 10.9
What's in the Box?
Phone, two 'graphics sheets' (more later), charger, USB cable, earphones/hands free kit, quick start user guide
Design
The Vodafone Smart III is unashamedly aimed at those who want a fun phone that isn't a black slab of plastic. Alcatel have been quite innovative in the way they've gone about this.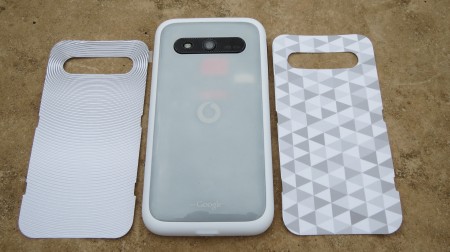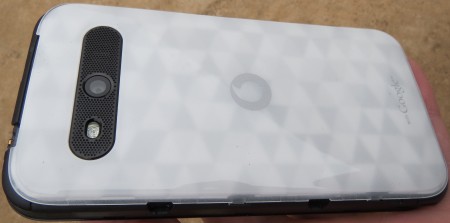 The first thing you'll notice when taking the gubbins out of the box is that a couple of sheets of phone-shaped paper fall out. These are, in fact, 'graphics sheets'. You see, the back of the phone is translucent and when the graphics sheet is inserted underneath it the pattern shows through.
In theory this is a great idea for personalising a phone, but in practice the two sheets provided don't really show through. There is a PDF template on the Vodafone website that can be used to create custom designs, so maybe you'll have more success!
There is another option however, if one chooses to have a plain back then NFC can be fitted. So, NFC or graphics sheets? It's clever, because the different options will appeal to different demographics.
The overall look of the phone is smart, if a little different. This is in no small part down to the slightly recessed base below the screen which houses the notification LED. I like it, but I can see it dividing opinion.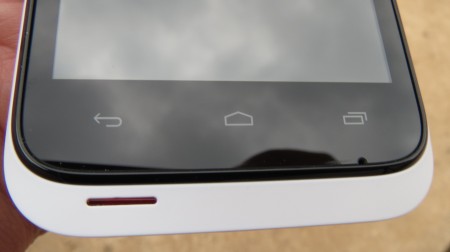 In Use
Firstly, I must praise Vodafone on their quick start guide. A starter phone is, by nature, a phone for those who haven't used Android (or maybe even a smartphone) before. Normally one gets a thick booklet in every language under the sun, but only two of the pages are in English and even then it's about how to dispose of batteries. The Smart III's guide is nearly 40 pages long, all in English and so comprehensive it taught me a thing or two.
Once the guide is read and the power on one has to remember that the Vodafone Smart III is a £95 phone, so don't go expecting HTC One performance. That said, it is a nippy little handset. Standard games, such as Cut the Rope and Angry Birds, run very well. Launching system apps is perfectly acceptable and installation from the Play Store doesn't hold things up too much.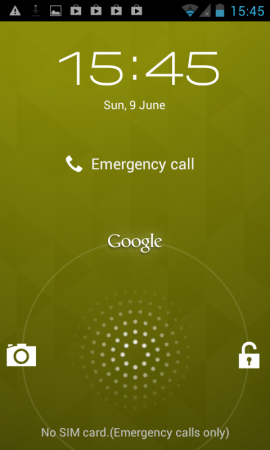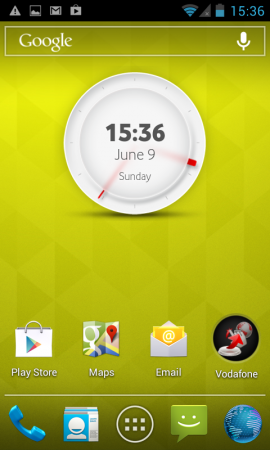 Given this, it's a little surprising that swiping between homescreens is noticeably laggy. I even removed all the widgets and it still lagged. I wonder if it's to do with a lack of cache memory, given the limited amount of RAM. It's a shame though, as it gives the feeling of a slow phone the minute one starts to use it.
Call sound quality is good, as is music, but it really does benefit from an earphone upgrade if the plan is to use it as a full time MP3 player.
Speaking of which, the inclusion of a MicroSD card slot means that, despite its lack of internal memory, it's still media friendly.
Camera
Oh dear. The camera is by far the worse part of the whole phone. 5MP doesn't sound too shabby for a budget handset, but general shots are lifeless and the colour saturation on closeups is headache inducing. See my sample photo of a watering can next to my water butt. To the human eye the red is fairly dull, but the Smart III makes it look positively iridescent! The creamy whites of the flowers in the closeup turn into Colgate's dream teeth, yet the sunny day in my garden looks like rain's expected.
Before you say it, I did try all the available contrast settings.
In its defense, both auto-focus and capture are impressively quick.
Software
There is a decent amount of starter software pre-installed. Some may say that this clogs up the handset, but for a phone aimed at novice users I do think it's good to have some apps to tinker with before having to resort to the Play Store.
The most interesting of these is something I've never seen before. It's a search tool called Kikin. The idea is that one can search the web for anything just by highlighting any given word in an email, text message or other documents. It's a simple premise that actually works very well. If the developers have had the forethought to patent it up to its eyeballs then I can see one of the big boys snapping this company up and implementing the technology as standard.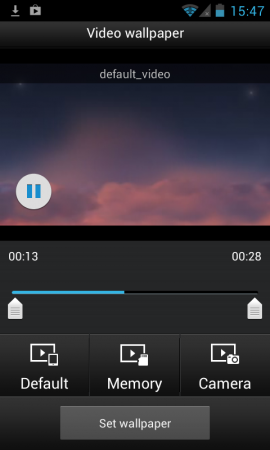 Something else that falls into the fun and funky category is video wallpaper. This is more than just a standard animated wallpaper, this is the ability to play any short video on loop across all of the homescreens. There is the inevitable lag that it causes and an alarming drain on the battery, but it's fun while it lasts.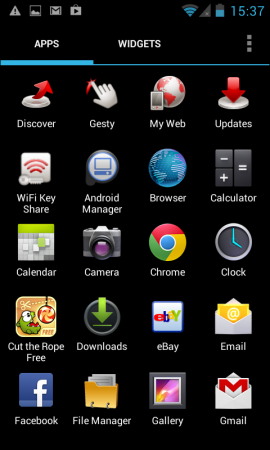 There's also some Vodafone apps that don't bloat things too much. Oh, and Cut the Rope Free is always a welcome addition!
There's some skinning going on behind the scenes, but not a lot. There's a non-standard settings toggle in the notifications bar which works quite well and I particularly like the power off/on scheduler.
Conclusion
There was a time when carrier branded smartphones were the benchmark devices all others had to live up to. Remember the Orange SPV handsets? Or how about the T-Mobile Varios? How the mighty have fallen. These days a carrier branded phone is the byword for cheap; a phone that even the manufacturer didn't want to put its name to. But…
Vodafone have actually got hold of a quirky and innovative handset that is a viable choice for those new to smartphones without the prejudice of brand to hold them back.
It's not great, and the fact that the camera is dreadful means it's not quite worth £95, but if you're not a big camera user and can get a tenner off or a free top-up then I can't see a reason not to give the Smart III a whirl.
The Vodafone Smart III is available on the Vodafone website for £95 on pay as you go or free on 24 month tariffs from £13 upwards.
Vodafone Smart III
Design - 80%
Hardware - 40%
Software - 60%
Camera - 20%
A fun, yet functional starter phone, but the camera lets it down