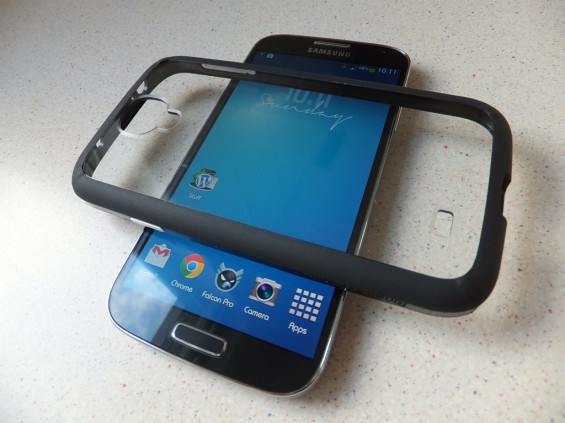 Phone cases are a part of my daily routine, wake up, pick which phone case to use, get out of bed, brush teeth, itch, you know, all the normal stuff. I find phone cases fall into three different types.
Minimal – minimum protection, no shock absorption, no screen protection, lightweight and more about the design than anything else.
Tough – maximum protection, shock absorption, screen protection, dustproof, waterproof, made up of several layers, chunky, heavy.
Medium protection – usually made of TPU, offers basic protection of the whole device, basic screen protection as the edges protrude past the screen, lightweight doesn't add much to the overall size.
The Fusion case falls into the medium bracket. Meaning it offers basic protection and doesnt add much size or weight to the Galaxy S4. As is normal with my reviews here are the good and bad points.
Good Points
Lightweight
Easy to fit
Clear backplate
Bad Points
Backplate could scratch easily
Plasticy feel
Lumps on back feel odd
Design
The Fusion case is a sort of cross between a Nexus 4 style bumper, a TPU push on cash and some sort of clear plastic shell. You get a one piece case that easily pushes on and then it lets you admire the Galaxy S4 and its shiny backplate. The sides of the case are made of a tough rubbery material that flexes to allow the S4 to fit in. The backplate is made of clear plastic with cut outs for the camera and speaker. There are also little lumps to prevent the backplate getting scratched when placed on a rough surface.
In Use
In use the case keeps the Galaxy S4 feeling lightweight and minimal yet still protected. The backplate has little lugs to prevent the backplate getting scratched, they are a little harsh and feel odd when they catch your hand. No doubt after time they will wear down and feel less harsh, but out of the box they felt like a defect.
The rest of the case felt quite nice to hold, the button covers worked as you'd expect and there wasn't any other niggles. I feel the backplate may after a while get a bit scuffed and detract from the overall look of the Galaxy S4, but if you're like me you'll probably change cases most days.
Conclusion
Overall I liked the case, it offers some protection from light damage and allows the fancy looking backplate of the Galaxy S4. You can get the Rearth Ringke Fusion case here along with a selection of other cases.