Blink for Windows Phone has been around for a while, it allows you to take a load of pictures at once and then pick the best one and save it for viewing at a later date. Ideal for photographing twitchy kids or sports events.
Well today it's gone and had an update to allow you to shoot small animations using the frames from the burst of shots.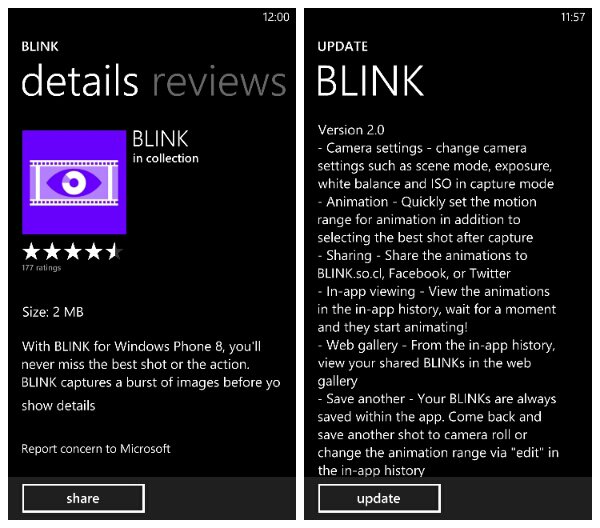 With BLINK for Windows Phone 8, you'll never miss the best shot or the action. BLINK captures a burst of images before you even press the shutter, and continues to capture pictures after you've taken your shot. Save and share the shot you like best. And better yet, save a short animated BLINK and share it to Facebook, Twitter, or BLINK.so.cl.

With BLINK, a few simple finger swipes lets you find the perfect shot, and create a short animated BLINK to share with your friends or the world.
So what's new in this version.
Version 2.0
– Camera settings – change camera settings such as scene mode, exposure, white balance and ISO in capture mode
– Animation – Quickly set the motion range for animation in addition to selecting the best shot after capture
– Sharing – Share the animations to BLINK.so.cl, Facebook, or Twitter
– In-app viewing – View the animations in the in-app history, wait for a moment and they start animating!
– Web gallery – From the in-app history, view your shared BLINKs in the web gallery
– Save another – Your BLINKs are always saved within the app. Come back and save another shot to camera roll or change the animation range via "edit" in the in-app history
Whether or not this is to compete with Vine, to catch up with Samsung and HTC or just to offer non Nokia Lumia owners a decent burst mode app, I don't know.


It's free for all Windows Phone users so head over to the link below and give it a go.
Windows Phone Store Link – Blink
Via – aawp