I like to be organised, sometimes a little bit too organised. I add allsorts of things to my calendar, from reminders to go home, my holidays, the weekly podcast and some other stuff. The basic Windows Phone Calendar tile doesn't really show much info and at times it is just blank. Even when I know appointments are upcoming.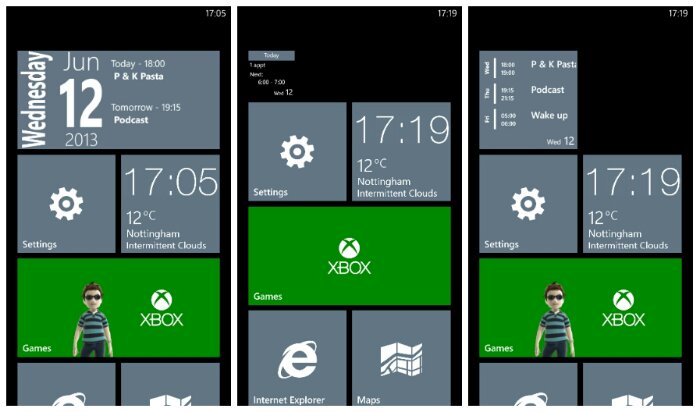 Simple Calendar has been around for a while now offering three different size tiles that show way more information than the stock app, there is even some settings allowing you to configure the tiles as well. The interesting thing about Simple Calendar is that it has just had a rather nice update. The update added two in app purchases to enable some nice new wide tiles.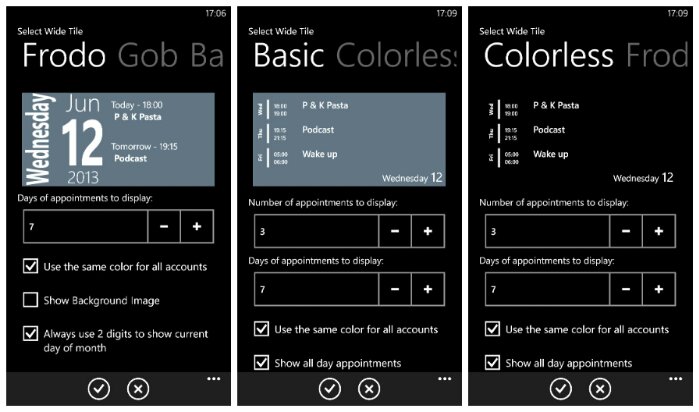 The developer sums up the app quite well.
See more from your calendars at a glance. The Simple Calendar live tile shows up to three appointments, and the month view shows all of the day's appointments underneath. Look at the whole month and still know where you should be in an hour – just double-tap a day to create a new appointment.
In Use
I often find that with third party apps try to reinvent the wheel quite a lot. Simple Calendar is actually quite simple, it just taps into the calendars that are already set up on your device. Once installed all you have to do is run the app, open up the settings and set it up as you like. Choosing which calendars are displayed, so if your appointments at the local gentleman's dancing club are on your phone you can hide them.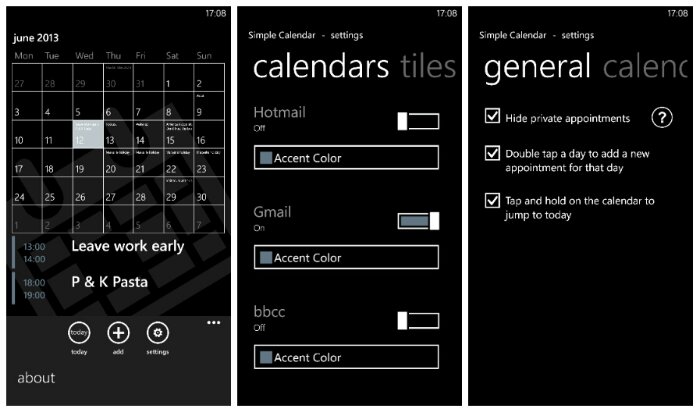 Simple Calendar uses your existing calendars, so there's nothing to set up, and your personal data never goes to our servers. Private appointments stay private, and you can show or hide just the calendars you want.
The interesting stuff happens when you go to configure the live tiles. You can have one of the three sizes 1×1, 2×2 or 4×2 and each has two or three different styles. The wide 4×2 tile has four styles of which two are in app purchases. It is these purchases that really mark the app out as being a bit special. The tiles really have a design unlike anything I've seen in the Windows Phone world. I really like them. But a 99p each it seems a little steep just for some design flare.
The app works nicely without the extra purchases. The basic version still offers way more functionality than the stock calendar tile. The developer explains how adverts work in the app.
This app is free, but advertisements will show up after 7 days of use. You can remove the ads with an in-app purchase, just look in the menu bar once you see ads. Also, there are other in-app purchases, like additional live tile options.
Windows Phone Store Link – Simple Calendar