Whether you like it or not at some point in life you'll utter the words.
I wish I could just access my home computer from this cosy pub sofa
Or something along those lines. There are a lot of options out there to do this. The most popular protocols are RDP or VNC. But there are also some companies who have made their own protocol to allow users more functionality or security.
TeamViewer are one such company and their app has recently appeared on the Windows Phone 8 Store.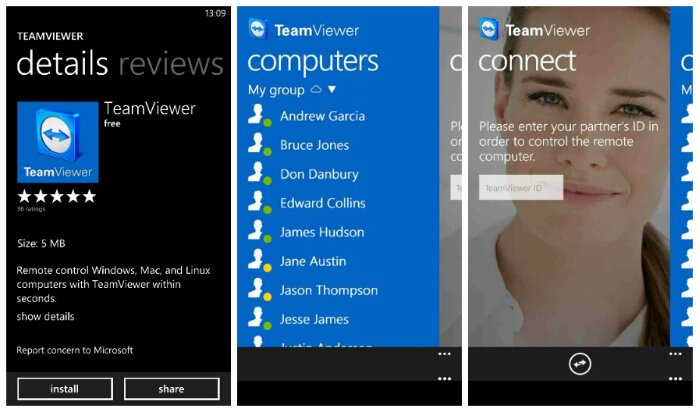 Remote control Windows, Mac, and Linux computers with TeamViewer within seconds.
Providing spontaneous support for friends and family or accessing applications on your home computer while on the go, TeamViewer allows you to accomplish all this from your Windows Phone.
Find out why more than 100 million users put their trust in TeamViewer!
TeamViewer is free for personal use.

App Features
—————————–
• Windows, Mac or Linux — Remotely control any computer within seconds
• Highest security standard — 256 Bit AES Session Encoding and 1024 Bit RSA Key Exchange
• Integrated computers & contacts list — See the online status of your partners and connect to them via quick access
• No configuration — Effortless access to remote computers even behind firewalls and proxy servers
• Simple reboot — Reboot remote computers or servers from anywhere
• Multi monitor —- Switch between multiple screens easily
For more information and the client side software head over to the TeamViewer website.
Windows Phone Store Link – TeamViewer
Tip off credit – Eric Cohen