On stage yesterday the Apple CEO stood to talk to developers about why they should choose iOS over anything.
Mentioning competitors directly, he showed the OS version fragmentation on Android and compared it to iOS. Some 93% of iOS users have iOS 6, whilst on Android there's a mish-mash of Gingerbread (37%), Ice Cream Sandwich (26%) and Jelly Bean (33%). He also demonstrated (via an Experian study) that iPhone users use their phones more and are happier with them than any other OS. His chart only includes..
…versions of Android that talk to the Google Play store, so it doesn't include things like Kindles and Nooks. But even then, it's a pretty bleak story.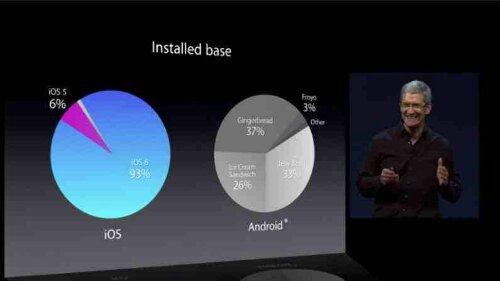 Lastly, Cook got down and dirty to talk about what we all love… money. Apple have paid $10 billion to developers so far but, just to show how things are ramping up, $5 billion of that was paid in this last year alone.