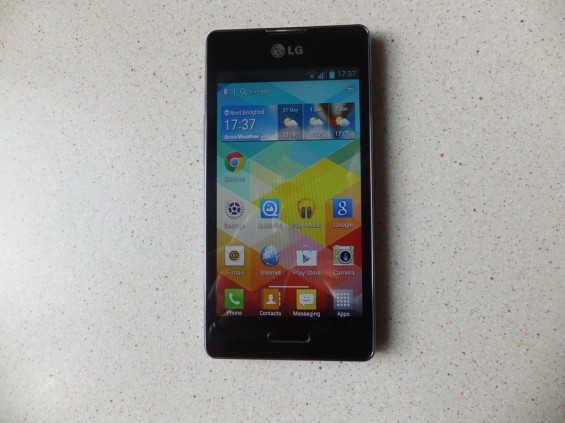 The LG Optimus L5 II is an interesting little phone, plasticy, lightweight and covered in fingerprints yet still it is an appealing little phone. Introduced as the middle device in the 2nd generation of budget "Optimus L" phones, there is also an L3 and a L7 which are lower and higher spec. Aiming to compete with a sea of budget devices from Samsung, ZTE, Huawei, the LG Optimus L5 II at about £129 has a lot of competition with phones that offer better specs and better designs for about the same price. So what can the L5 II offer? Read one first of all my updated good and bad points.
Good Points
Surprisingly fast around the core UI
Lightweight
One handed operation is possible
Decent sound quality with headphones on
Loud speaker
Bad Points
Plastic everywhere
Slow 5MP camera
Screen is fingerprint magnet
Slow during app installation
Speaker loud but tinny
Design
The L5 II as I'll call it from now on, has a design reminiscent of something like the orginal Galaxy S or Galaxy S2 at the front and the Samsung Ativ S at the back. Mainly down to the silver plastic strip around the screen and a faux metallic back plate.
The button arrangement is pretty standard with the power button on the right and volume rocker on the left.
But LG have added something extra, a quick button that lets you launch an app from whatever you have installed. It defaults to QuickMemo which takes a screenshot and allows you to annotate it. Another handy design feature is the home button which flashes different colours depending on which type of notification you have. It glows red whilst charging, green when charged, multi colours whilst turning on and off, green and yellow when receiving a call, multi colours when an alarm is going off, blue for calendar reminders, green and yellow for missed events, pink for favourite calls and white whilst downloading. It was quite a handy feature, teamed up with recurring SMS alerts it helped me keep up with any messages.


Hardware
The Optimus L5 II has a pretty basic spec.
RF Band – 2G Network: GSM 850/900/1800/1900, 3G Network: Dual (850/1900, 850/2100, 900/2100), HSDPA 7.2Mbps/HSUPA 5.76Mbps
OPERATING SYSTEM – Android 4.1 (Jelly Bean)
CHIPSET – MT6575 1.0GHz Single Core
Battery, Max (mAh) – 1,700mAh (typ.) / Removable Li-ion
DISPLAY – Size (inch) 4.0 inches Resolution WVGA (800×480) IPS
Camera – 5MP
AGPS
Bluetooth 3.0
About 2GB of Internal Storage (about 1.4GB available out of box after updates)
Micro SD slot
Full size SIM slot
The main thing with the L5 II is the single core CPU, it inhibits any multi tasking you may want to do, I found the old "device slows to a crawl when installing stuff" problem rather annoying, especially with auto updating of apps turned on. The L5 II has a removable battery and a MicroSD slot which is always a good thing. It means you could get this and load it up with music and not worry about your internal storage. Although if you play games the internal memory is going to be a worry. After updating the core apps you are left with about 1.4GB of space, which if you are only using it for basic functionality it will be adequate, you'll be able to install your apps and probably never worry (especially if you add a memory card for pictures and music), but the problems start when you start installing games, a game can be between 2MB up to over a 1GB in size, which means after installing 10-20 games you'll probably have no space left. The other way of looking at is that thanks to the single core CPU none of the bigger games are going to work. I experience lag playing basic games like Jetpack Joyride & Jane Wilde. Mainly when there was too much happening on screen at once. Battery life wasn't great, playing games ate huge chunks of battery, syncing lots of different accounts also ate big chunks, it's just life really. At some point during the day you will have to plug yourself in and recharge.
Benchmarks
Benchmarks give you a rough idea of how a device compares to others, Antutu shows the L5 II to be similar to the Galaxy S and Quadrant shows it to be similar to the Galaxy Nexus. Both of which are perfectly usable devices. As always take benchmarks with a pinch of salt.
Antutu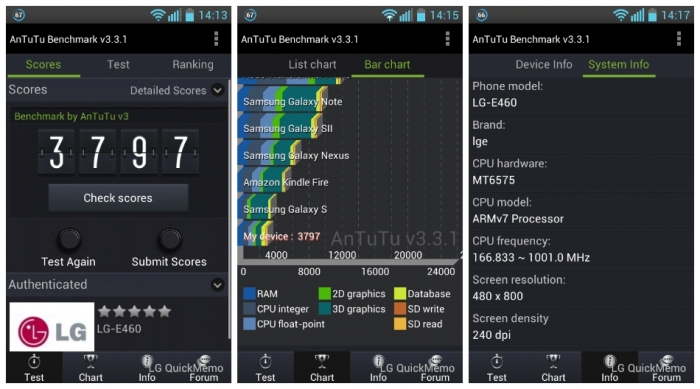 Quadrant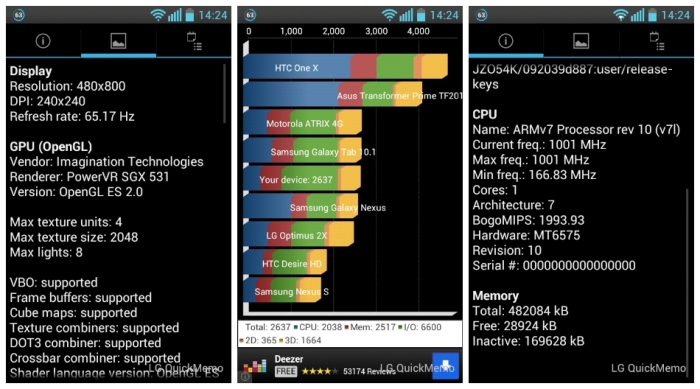 Software
The L5 II runs Android  4.1.2 which means you get all of the Google Now and Project Butter stuff. This probably explains why screen transitions on the home screen are nice and fluid. LG have basically skinned best part of the UI, with most core apps and settings being skinned in some way. Here are a few shots showing the skinned UI.
In the main the tweaks to the core software adds functionality. Which is a good thing, the other edge of the sword is that you end up with a device that doesn't run as fast as it might and also you get a device that may never get updated. What LG have managed to do though, is to make the launcher and the basic apps work well, with no lag and it makes for a decent experience. You  install something else though and things start to take a tumble, the Chrome web browser took a good few seconds to load up text on a webpage choosing to display blurriness whilst waiting. Some games seem to hang as well, some games wouldn't even install (Ski Safari). I guess this all boils down to the single core CPU again.
Camera
The camera is a pretty basic 5MP with autofocus and tap to focus modes. Plus a quickmemo mode where you can use the quick button to trigger the shutter and then it opens into edit mode allowing you to write something inane over the top and send it to your friends, which is actually quite useful. It also has a function called "Cheese Shutter" which allows you to shout "Cheese" at the phone and it will take pictures.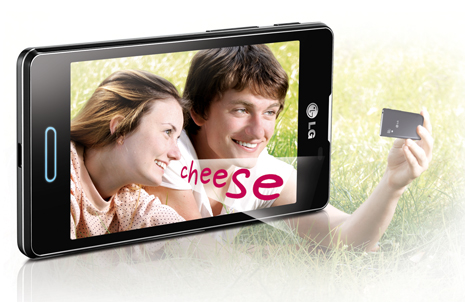 The camera itself takes basic pictures in good light, unless you point it at the sun. If you dare take low light shots you'll be reward with noise and blurryness. Take a look at the sample shots below.
Conclusion
In conclusion the LG Optimus L5 II (last time I'll have to say that) is an ok little phone. As a backup phone to take on holiday, a phone to get a teenage kid, or just a phone for yourself if you didn't want to spend that much money, it would be perfectly ok. LG's tweaks have created something really quite usable and doing basic stuff it performs well. For the money you could get a few reasonable alternatives, dare I say it but a Windows Phone would be a viable alternative at this price point (£129 on o2 PAYG). Recent offerings from ZTE and Huawei give the L5 II some stiff competition.
LG Optimus L5 II
Design - 65%
Hardware - 50%
Software - 60%
Camera - 60%
Basic phone, basic build quality, reasonable but slow camera, limited memory, nice software tweaks, good audio quality, ideal for use as a holiday MP3 player