Just recently the nice people at Three told us about their new "broadband only" SIM. Like the old "SIM Zero" plan, this is ideal if you want to pop a SIM into your iPad and browse the internet when you take your device out of WiFi range. Like "SIM Zero" it's only a fiver a month and, just like the now-defunct "SIM Zero" plan it's a rolling monthly contract.
We picked up the news before the new plan actually went live and promised to let you know when it was available, so you can order now if you wish.
However… What you should know is the fact that the old "SIM Zero" offering provided 2GB of data per month for your £5. This new "Mobile Broadband" plan, for the same amount, gives you just 250MB per month.
Whilst I don't doubt the capacity and speed of the Three network, prices seem to be on the up here. I'm still paying £5 for my "SIM Zero" plan and use a lot of the 2GB, but now – even if you want just a 1GB monthly allowance – it'll set you back £7.50 per month on SIM-only.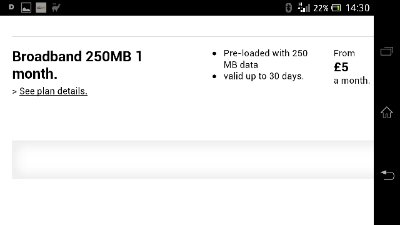 Decide for yourself, but if you do have a "SIM Zero" card, keep hold of it.
Link – Three Mobile Broadband