The 6″ large phone market is heating up. There are no end of devices due to be released that all have a screen size around about 6″ and HTC are rumoured to be releasing something that will probably be better than the lot of them. Unless you like huge chunks of plastic that is. German website Mobileaks has had some further specs and blueprints for what was previously called the HTC T6.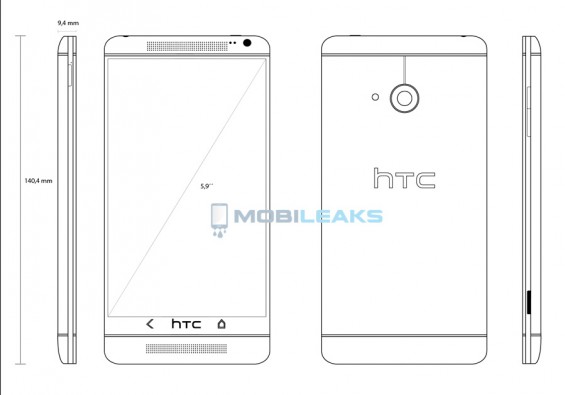 The drawing shows a 5.9″ screen, the same Boomsound speakers as the HTC One, the same general design, the same camera and flash arrangement and what seems to be either a camera shutter button or a micro SD slot on the right hand edge near the bottom.
Mobileaks have re-iterated the specs that were leaked the other week:
5.9 inch screen
1920 x 1080 pixels
Snapdragon 800 CPU
2.3 GHz clock speed
Android 4.3 or 5.0
3300 mAH battery
Boom Sound speakers
Ultra Pixel camera
I'm intrigued by this potential device. I like the large phone niche, I like metal phones, I loved the HTC One when I had one recently. This could be a serious contender for the Note III and the FonePad Note.