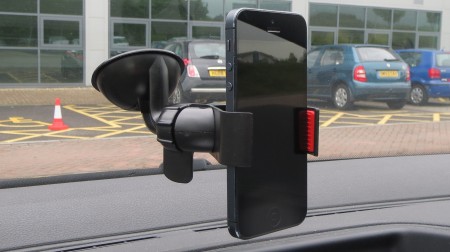 What do you do if you share a car with someone who has a different phone to you, but you both want to use a car kit when driving? Get a universal phone mount, of course, Einstein! But which one? Ah, now that's a little more tricky. The contender today is the Gripmount Car Charger Mount Kit.
The Gripmount is actually just a universal phone holder and the charger is a USB cigar lighter adapter and a cable. The cable is the only thing that differs depending on which phone you buy for. In this case I went for the iPhone 5 lightening cable as I have more than enough standard microUSB cables hanging around the place for my other phones.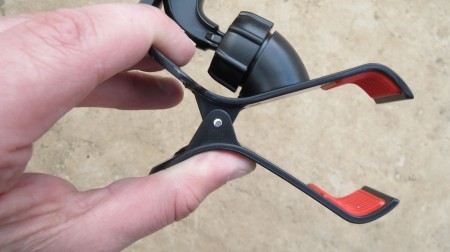 Good
Secure hold
Will fit any phone
highly adjustable
Bad
Difficult to open grips from drivers seat
A little shabby for the price
Price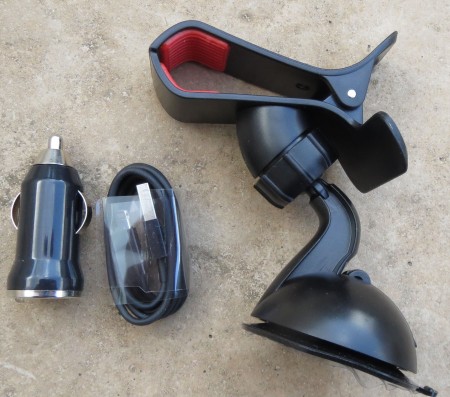 What's in The Box?
Gripmount phone holder, cigar lighter USB adapter, lightning charge cable.
Build Quality
For £24.99 I was a little disappointed with the build quality of the Gripmount; whilst it's sturdy enough to do its job, there are obvious moulding joints that stand proud and overall the plastic feels a bit cheap.
Having said that, the spring is strong and the screen sucker very secure, so if they'd have taken a bit of time on the finish it would seem more like a premium product.
The USB adapter and cable are good quality and worked well.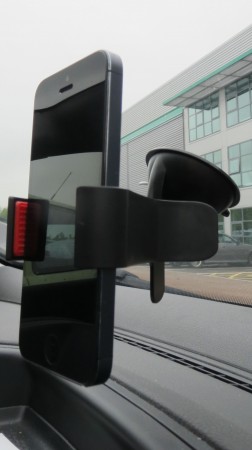 In Use
The Gripmount is simply a spring-loaded pincer that one opens by squeezing it from behind. As you can see from my photos, it held the iPhone 5 comfortably and was equally well suited to my Samsung Ativ S and even my Samsung Galaxy Note II. I think that it could probably hold something a little larger, but only just.
The part of the pincer that holds the phone is lined with bright red, firm rubber pads which are ribbed for extra grip. Once it was in its grasp there was no way the phone could be moved. In fact, at once point it made a grab for my fingers and it was only then that I felt sorry for the phones (hence the reason I am describing it as a pincer – ouch!).
The reason it has such a firm grip is due to the beefy spring that's fitted. This is both a blessing and a curse though; it holds the phone like a hungry pit bull, but once it's attached to the windscreen one needs to perform a contortion act to reach the handle at the back, then squeezing it to release the phone borders on the painful. I'm sure it's just my geeky limp fingers that caused the issues, and a real man would have no problem.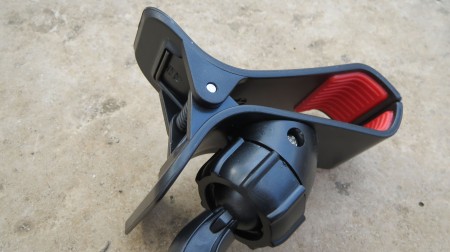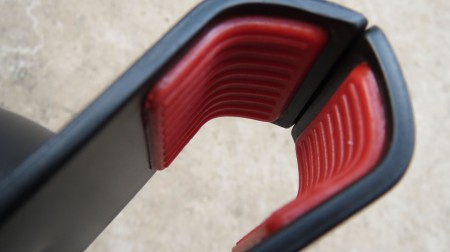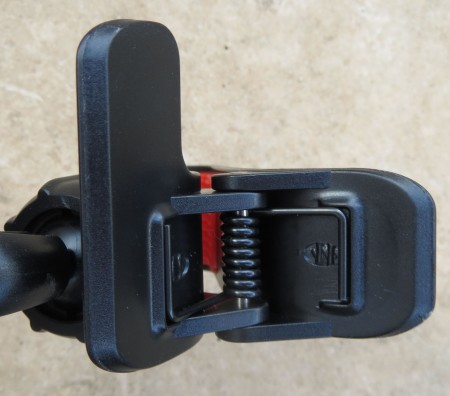 Adjustment of the Gripmount is via a ball joint behind the pincers that can be nipped up finger tight by way of a nut. Setting the angle and orientation was simple and easy.
The cable attaches and dangles down. I would have liked some sort of cable run on the Gripmount itself so that it stayed attached to the when not in use, avoiding the inevitable scrabble in the passengers footwell when the phone suddenly decides it's had enough of streaming music and giving GPS directions.
Conclusion
The Gripmount is a simple, yet well designed car kit. The wide pincers do make it truly universal (unless you're packing a 7″ Asus FonePad, that is!) and the fact that even though it's marketed as universal it still comes with the correct USB cable is a nice touch when buying for an iPhone.
It could do with a little more attention to its finish, and for this reason I would say that at £24.99 it's mildly overpriced, although the industrial spring is positively over-engineered!
The Gripmount certainly won't let you down, and is a reliable bet if you're unsure of what to go for in the mêlée of universal car kits on the market.
Beware though, if you're a speckie nerd who's only form of exercise is tapping a keyboard, this car kit may be more than a match for you!
The Gripmount iPhone 5 Lightning Car Charger Kit is available from Mobile fun, along with other car kits and iPhone 5 chargers.
Gripmount iPhone 5 Lightning Car Charger Mount Kit
Build quality - 8.5
Price - 6
Usability - 6.5
Looks - 4.5
6.4
Only let down by a poor finish and high price, this Gripmount grips and it's a mount.