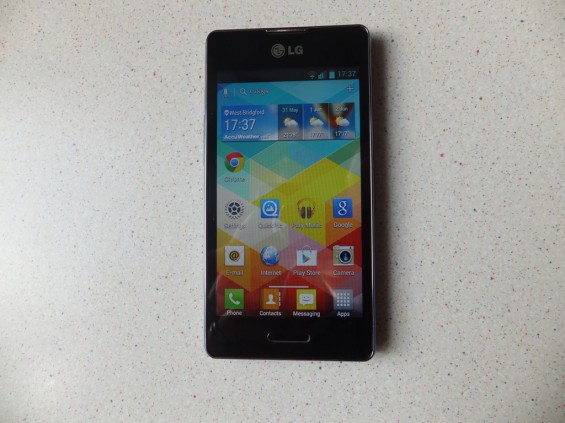 LG and their phones have pretty much passed me by during my time on this planet. In fact I don't think I've ever even touched one. Here is my history if you're interested, (according to that I did once have an LG). So getting my hands on the Optimus L5 II has been an interesting few days. So far I've basically took it out of the box and set up my different accounts, so it's the ideal time for an initial impressions article.
Good Points
Surprisingly fast around the core UI

Lightweight
One handed operation is possible
Decent sound quality with headphones on
Bad Points
Plastic everywhere

5MP camera
Internal Memory
Screen is fingerprint magnet
Design
The LG Optimus L5 II has a pretty basic design, no fancy materials or holographic back panels here. The phone basically has a big faux metal plastic back plate, that took me a little while to work out how to remove. I basically wedged a nail in between the volume rocker and the back and yanked it off.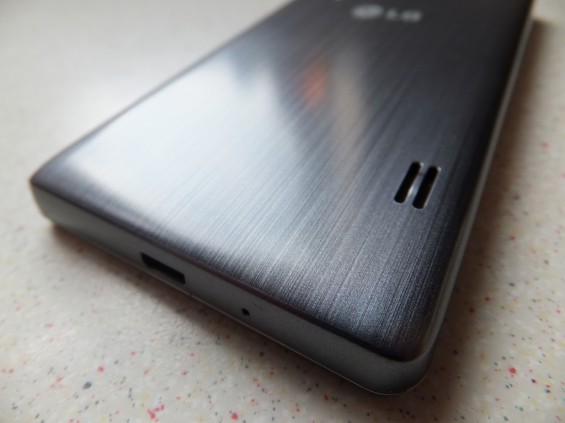 The backplate covers up the MicroSD slot and the full size SIM slot and it also houses the various buttons. You get power, a volume rocker and a quickmemo button that takes a screenshot and allows you to draw on the screenshot. The backplate also has a speaker grill cut into it. The front of the device has a oval shaped home button, which is backlit and changes colour depending on which notification you get. A small earpiece sits above the screen wondering where its friend the front facing camera has got to.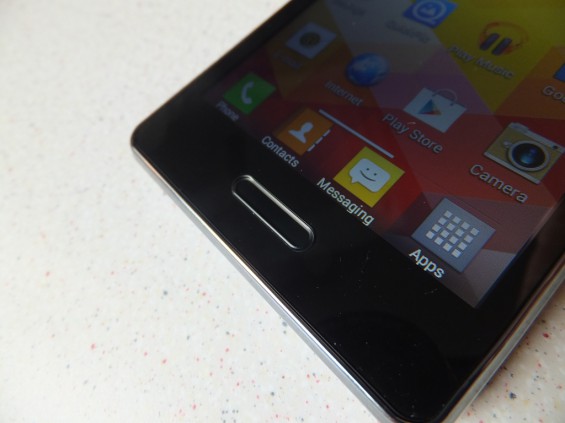 Here are a load more pictures of the device from every conceivable angle.
Hardware
The Optimus L5 II has a pretty basic spec, yet there are a few things in the list that appeal.
RF Band – 2G Network: GSM 850/900/1800/1900, 3G Network: Dual (850/1900, 850/2100, 900/2100), HSDPA 7.2Mbps/HSUPA 5.76Mbps
OPERATING SYSTEM – Android 4.1 (Jelly Bean)
CHIPSET – MT6575 1.0GHz Single Core
Battery, Max (mAh) – 1,700mAh (typ.) / Removable Li-ion
DISPLAY – Size (inch) 4.0 inches Resolution WVGA (800×480) IPS
Camera – 5MP
AGPS
Bluetooth 3.0
About 2GB of Internal Storage (about 1.4GB available out of box after updates)
Micro SD slot
Full size SIM slot
Having a removable battery and a MicroSD slot is always a good thing. It means you could get this and load it up with music and not worry about your internal storage. The CPU is only single core which is a worry as to how it will cope with games and stuff.
Software
The Optimus L5 II runs Android 4.1 Jelly Bean which I guess is why the device feels smooth through the UI. Most of the core apps are skinned, which I feel is a little unnecessary, it will just lead to delays in updating the firmware. Although saying that the launcher, the icons and the skinned apps are quite nice. After installing updates to the core apps I was left with 1.4GB of storage so you'll be able to install a fair few apps just not dozens of games. I'm going to try and fill it and see quite how much I can install.
Conclusion
I quite like the Optimus L5 II it is unashamedly somewhere between entry level and mid range. The software tweaks and hardware additions like the home button will make for a nicer experience for the target market. As this is my initial impressions I'll be testing out the phone over the next few weeks. So if you have any questions about it or you want something testing on it let me know in the comments.