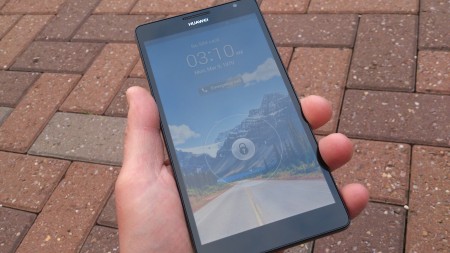 Yesterday we took a look at the Ovivo Mobile offering. Grab a SIM card for £15 and they'll dish up 150 minutes, 200 texts and 500MB data on their Freedom Plan and you pay a big fat nothing per month. When you're browsing you get an advert pop up every 10 minutes or so, and that helps to pay for the thing.
We showed you how it all worked on the Samsung Galaxy Y but unfortunately that has a 240×320 pixel screen and, when you're filming it and trying to show stuff, it's pretty rubbish to demo stuff on.
So.. what to do… what to do… how could we fix that? Oh, I know, how about we use the Huawei Ascend Mate? It has a 6.1″ screen which is HUGE. When you think how close this thing is to a standard Android 7″ tablet, it's such a sharp image, such a brilliant screen to dive into and it's about time we gave you a tour around this thing.
Here then is the Huawei Ascend Mate in action. Don't forget that our picture special is available too, but here's a tour / Ovivo Mobile demo combination… 🙂