EE have just announced new 30 day rolling SIM-only contracts here in the UK. The new plans will allow access to the 4G network without the long commitment.
Customers can then try 4G to see how it works for them and sign up to a longer deal with a handset later on.
As with every other deal on EE, the 30 day plans come with completely unlimited calls and texts so customers just need to pick a suitable data allowance without fear of going over.
The new deals offered on 30 day SIM-only are as follows…..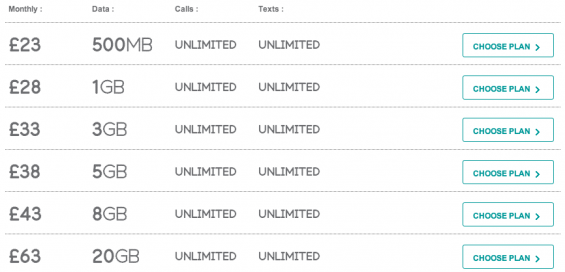 Although costing £63 a month, it is nice to see the larger 20GB plan offered without a long commitment
Simeon Bird, Director of Propositions at EE, said: "It's our ambition to provide consumers with the most comprehensive range of 4GEE plans possible. With these new 30-day options, we're pleased to be providing an even more flexible way to access 4G."

In addition to superfast speeds, EE customers will also benefit from:

·         EE Film – the UK film service that combines 2 for 1 cinema ticketing, listings, trailers, film downloads and streaming in one place

·         A discount of £5 per month on EE superfast Fibre Broadband – so they can get blistering speeds at home and on the move

4G from EE is the first and only superfast 4G mobile service in the UK, and will cover 98% of the UK's homes and businesses by the end of 2014. Double-speed 4G will be introduced to the following ten cities by summer: Birmingham, Bristol, Cardiff, Edinburgh, Glasgow, Leeds, Liverpool, London, Manchester and Sheffield.