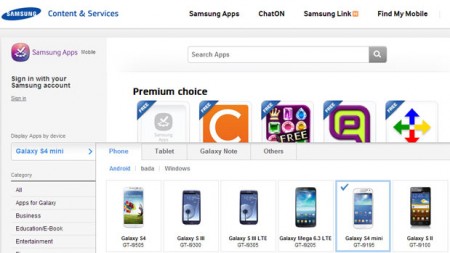 OK, which butterfingers in the Samsung UK web team put the S4 Mini image live on the site before the announcement? Yes, Samsung have inadvertently published a picture of a Galaxy S4 Mini on their own app store. It's been taken down now, but when browsing apps and filtering by device there was an option for the Galaxy S4 Mini and a thumbnail image. Under the image were the words, "Samsung Galaxy S4 Mini GT-I9195".
We still don't know a great deal about the device beyond the leaks and rumours we've already heard of a 1.6GHz Dual Core processor, 1GB RAM, 16/32GB ROM, an 8MP camera, 4.3-inch super AMOLED qHD 256ppi screen. Looks like it'll be launched running Android 4.2.2 (Jelly Bean), although there's no news on whether it'll have any of the whiz-bang software that clogs up its big brother.

Rumours have been circulating about what is going to be revealed at the Samsung Galaxy & Ativ event on 20th June, and if any of you put money on the Galaxy S4 Mini being one of the devices then you could be on to a winner.
As for the Ativ side of things, we know that Samsung have abandoned their Windows Phone projects, so it's probably going to be some sort of Windows laptop/tablet affair.
Could there be more on offer though? At the S4 launch they sprung a surprise Galaxy Mega 6.3 into the mix. How about a new Galaxy camera?
What we do know is that coolsmartphone will be at the Samsung event on 20th June and we'll be bringing the news to you as it breaks.
Source – Redmond Pie