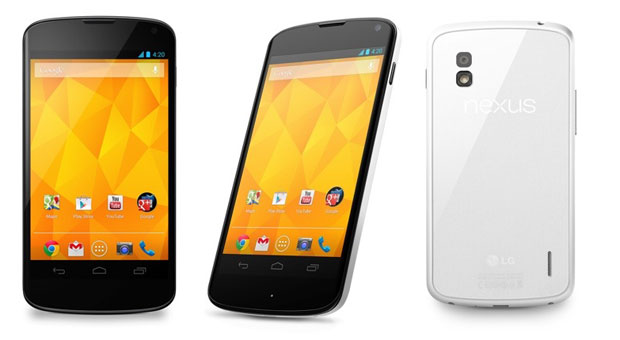 There is something about white phones that gets me every time, it all started with the white HTC Hero, then Galaxy S2, Note, Note II, a few white mp3 players and a few white laptops. Now if a phone comes in white I just feel obliged to get it.
For weeks now rumours have been floating around about a white Nexus 4. LG have finally announced it. It all seems a bit odd. Almost like a stop gap before the next big thing. Compared to the other flagship devices it is lacking. The camera and battery life being the main problems people have with their Nexus 4s. All that this nexus 4 can offer is a decent price and quick firmware updates.
The white Nexus 4 has exactly the same spec as the older black model and is rumoured to come with Android 4.3. The Nexus has a 320 ppi 4.7-inch HD IPS display, 2GB of RAM, an 8-megapixel camera and a quad core Snapdragon S4 Pro processor.
But most interestingly is the fact that it should be available from tomorrow in certain parts of the world. With LG saying the following.
Starting in Hong Kong on May 29, Nexus 4 White will roll out globally in select markets in Asia, North America, Europe and the Middle East over the next several weeks.
But so far there isn't any information regarding whether or not the white Nexus 4 will be available on the Google Play Store, there also isn't any info about the price, or when factory images of Android 4.3 will be available for owners of the black Nexus 4.
I've been holding off getting a Nexus 4 for a while now, maybe this will be the trigger I needed. How about you? Are you liking the thought of a shiny reflective white backplate?
Source – LG