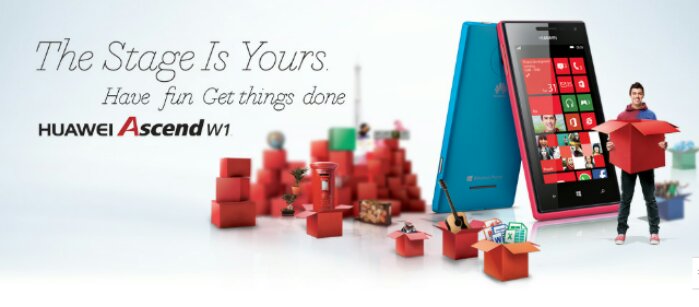 The Huawei Ascend W1 is one of those entry level Windows Phone 8 devices, you know the ones with 512MB of RAM yet they still run really well. Well O2 are having a clear out, no doubt down to the killer prices of the Lumia 620 and 520. O2 are currently selling them for £99.99 which no doubt you'll need to buy a top up as well. You can get the Ascend W1 in blue or pink.
Key features of the Ascend W1 are as follows.
Slender & Stylish Windows Phone
The Huawei Ascend W1 brings you the very latest in Windows Phone 8. The W1 is packed with features but is also incredibly slim at just 10.9mm.
Long lasting 1950mAh battery
If you're going to take advantage of the Live Tiles and great apps for Windows Phone, you're going to need a great battery too. The W1 comes with a huge long lasting 1,950 mAh battery.
Large 4″ Screen with durable Gorilla Glass
The W1's large screen is ideal for viewing your Live Tiles, using over 100,000 apps or even entertaining the Kids with Kids corner. It's finished with tough Gorilla Glass to resist the daily rough and tumble of life.
Snap Happy and In touch
The 5 Mega Pixel auto focus camera has an LED flash and means you can take snaps and quickly update your social network. There's an expandable memory slot for those who can't help taking pictures.
Spec wise the Ascend is in line with the other entry level Windows Phones.
Ascend W1 Specification.
Talk TimeMaximum 2G talk time: Up to 8 hours
Maximum 3G talk time: Up to 10.5 hours
Standby TimeMaximum 2G standby time: 19 days
Maximum 3G standby time: 19 days
Dimensions 124.5 x 63.5 x 10.5mm
Weight 120g
Screen Size 4.0″
Internal Phone Memory 4GB
MicroSD slot
Microsoft Windows Phone 8 Portico
Camera 5 megapixels
Video Capture 30 fps
HSPA+ 21/5.76 Mbps
Bluetooth, Stereo Bluetooth
Wi-Fi
GPS
The IPS Gorilla Glass screen, the camera with flash and Micro SD slot all seem like plus points. It's a difficult choice between this and the two cheap Lumias. The Ascend W1 will be in the middle I guess thanks to the flash. Although the internal memory will come out of the box around about 1GB. Once you have installed Nokia's Here Drive+ Beta and you have yourself a useful offline Sat-Nav as well.
Source – hotukdeals