The dust is settling after the rather long keynote at Google I/O yesterday and as things start to rollout we can start to examine things in a little more detail.
One of the big enhancements to the Google ecosystem is the rehashing of Google Hangouts.
This unification of Google's messaging appeared to miss out a couple of vital things, like SMS, MMS and email. Up until now, we didn't know if the omission of SMS was to appease the carriers or due to the time constraints of launching at I/O, but we've found something rather interesting.
An update for Hangouts has appeared on Google Play for web, and whilst this update hasn't appeared on any devices we've tried it on, a delve into the Hangouts description on Google Play reveals something a little telling.  Take a look at the screenshot below: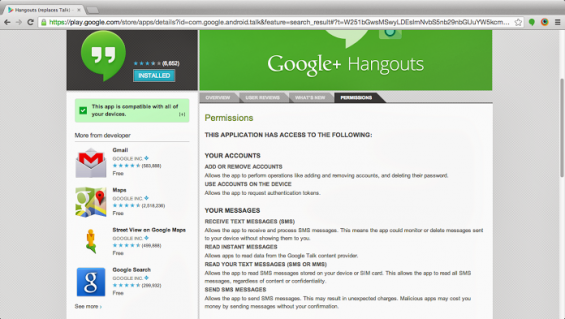 The eagle eyed amongst you will have spotted that the new Hangouts has some new permissions to go with it for SMS and MMS. There can only really be one explanation for this, further integration is on its way – SMS and MMS integration will go some way to appease some of the complaints levelled at the new service.
Could this be coming in the next version of Android that everyone was anticipating the release of yesterday? Or will we see this Hangouts update sooner than that? Only time will tell…