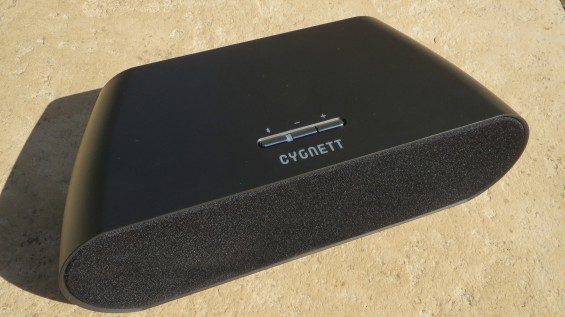 The Cygnett SoundWave Bluetooth speaker is a compact mains or battery powered wireless sound system that comes with the added bonus of a phone stand. I've had one on test for a couple of weeks, so here's how it stacks up.
Good
Price
Phone stand
Big sound from a small box
Battery option
Bad
Sensetive to positioning
Most charge cables don't fit in the stand
Marks very easily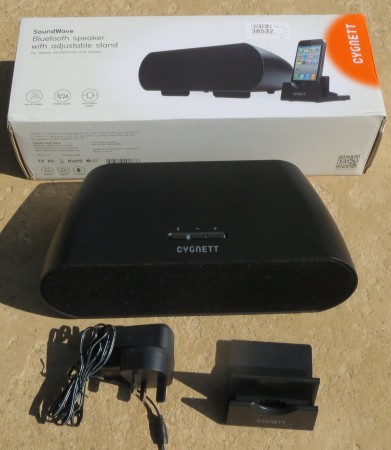 What's in the box?
The snug fitting box uses an orange and white colour scheme, making it look a little bit like it's come from the Sainsbury's value range. Luckily, that's where the similarities end, because inside I found the rather sleek looking Cynett SoundWave Bluetooth speaker, along with a phone stand, a power adapter and some instructions.


Specs
I couldn't find any, except the Bluetooth range is 10 metres.
Construction
The Cygnett is a sort of oval shape at the front that tapers towards the rear. An odd description, but you'll see what I mean from the photos. The whole of the front is covered by a fine material grille, beneath which two small speakers are secreted. The top has got volume up and down buttons, as well as one to toggle Bluetooth on and off. Around the back are two reflex ports either side of a panel with a power connector and switch, and a 3.5mm jack input. Underneath is a battery compartment for 8 AA batteries.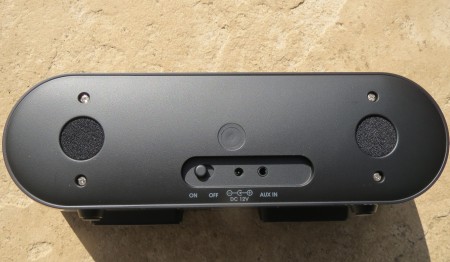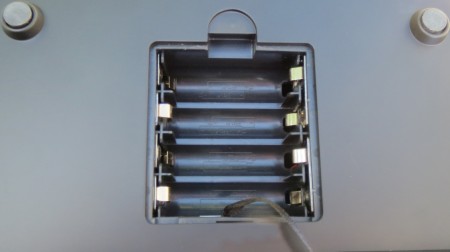 The feel of the case is a little 'plasticy' (mainly because it's made of plastic), but the weight is reassuring that the Cygnett is well made with good quality components.
The phone stand is made from the same plastic, but also has the same quality feel to it.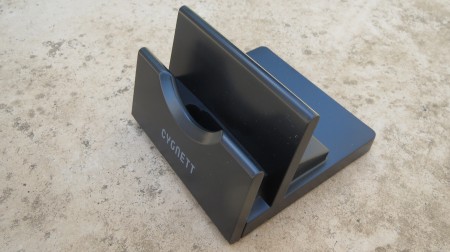 One slight downside is that the the casing is quite sensitive to scratches. I accidentally ran my metal watch strap over the side of it – not hard, just a swish across the surface – and it left a noticeable mark. I know I shouldn't be running a watch strap across it, but I would have hoped it'd be more resilient than that.
In Use
Pairing any Bluetooth device with a phone is a standard procedure these days, and all that's needed in this case is to hold down the Bluetooth button and wait for it to appear in your device list.
I was quite surprised at how loud the Cygnett goes. I can stream music to it at any volume without any discernible distortion, which is pretty impressive. The sound level is more after dinner drinks party than teenagers' house party, but it's enough to annoy the neighbours if you don't invite them.
Sound quality is reasonable, given the size and price, but it really does benefit from a bit of breathing space. After spending an hour wondering around my house putting it in various places, I found that the best sound was achieved by having it a ear level, about 18 inches away from the rear wall, and as far away from any side walls as possible. Any closer to walls and it started to sound very 'boxy'. I'm sure this is down to the rear mounted reflex ports, which it could probably do without.
The Stand
A bonus feature with the Cygnett is the phone/iPod stand. It's adjustable in depth, so holds your handset securely and at a slight angle. It also has a channel underneath so a USB power cable can be threaded through and poked up, letting your device charge and play at the same time. That's the theory, anyway…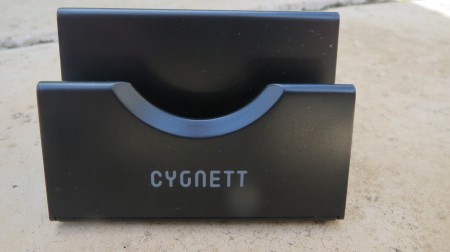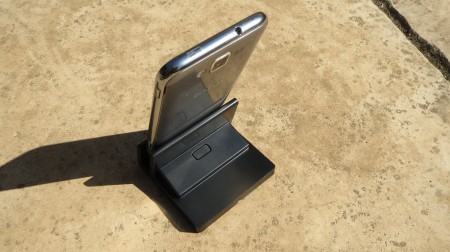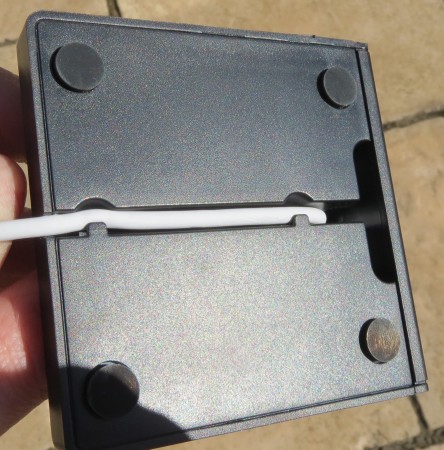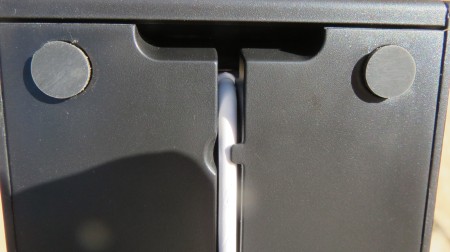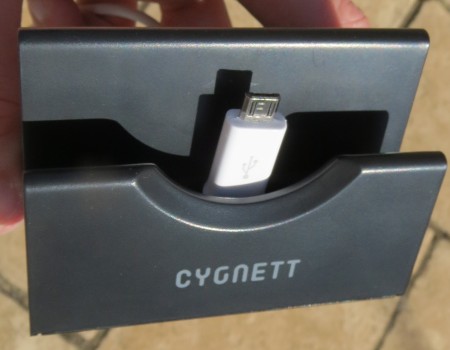 The big problem with this is that most cables are too chunky to make the right-angled bend involved. I found that a genuine Apple iPod sync cable would just about fit, but none of the six microUSB cables I tried would fit correctly.
I have included a photo of just how bad it was with a genuine Samsung cable.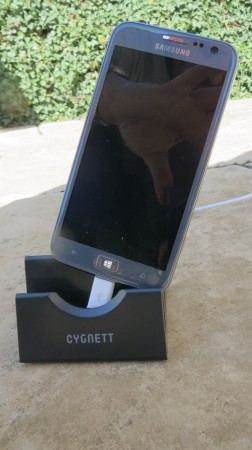 As you can imagine, I wouldn't recommend using the stand in this configuration!
Conclusion
The Cygnett SoundWave Bluetooth speaker is a great little speaker. Ideally suited to a kitchen, bedroom or workshop environment, but the addition of batteries means it can go outside with you should you want some tunes in the garden. In fact, the volume hits decent enough levels for it to liven up a summer barbecue or kids party.
It's a shame about the dock charging situation, because it could have been so useful. However, even when used without a cable this stand is a welcome extra that makes the speaker stand out from the crowd.
Overall I would rate this as a reasonably good buy at the retail price of £89.99, however, they are available for £39.99 at Gearzap (at the time of writing). At that price I have to say that this is a fully paid-up member of the bargain club.
The Cygnett SoundWave Bluetooth speaker can be found in amongst the Galaxy S4 accessories at Gearzap