Three have just announced that the new BlackBerry Q10 is launching on their network. It is also 4G ready for when their network starts to roll out later this year.
Costing £49 up front on The One Plan including AYCE data with tethering and 4G later this year, this is great value at £37 a month.
More below..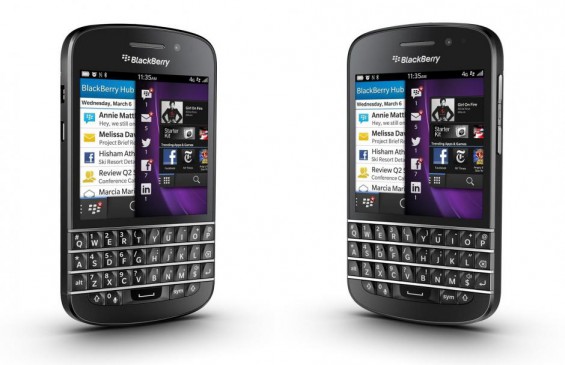 Here is the full press release..
The BlackBerry® Q10 is available now on Three.

14 May 2013

The BlackBerry® Q10 is now available on Three's Ultrafast network with all-you-can-eat data, on pay monthly price plans. The device will be stocked in all Three stores and through Three.co.uk.
The BlackBerry Q10 on Three is 4G Ready and future proofed meaning customers can enjoy the ultimate internet experience now and when 4G LTE arrives later this year, without the need to change price plans or pay a premium. Three's Ultrafast network, currently supported by DC-HSDPA technology, already covers 80 per cent of the UK population.

The BlackBerry Q10 is available for £35 a month with an upfront cost of £49 on the Ultimate Internet 500 plan and for £37 a month with an upfront cost of £49 on The One Plan – both plans come with all-you-can-eat data.

Sylvia Chind, Head of Devices at Three said, "With lightning fast features such as Instant Action, allowing people to type and launch apps like Skype straight from the homescreen, the BlackBerry Q10 is the perfect addition to our Ultrafast network. Plus, with WhatsApp Messenger also available on BlackBerry 10, people can send friends as many messages as they like, making the most of Three's all-you-can-eat data."

The new BlackBerry 10 user interface is designed to make things quick and easy. For example, people can peek at their messages with just one swipe or start typing on the homescreen and the Q10 will offer quick shortcuts.

In addition, this fantastic smartphone also includes an 8 megapixel camera with Time Shift camera mode, which captures a sequence of shots when taking a picture, allowing people to merge them together for the ideal picture.

Key features:
• Full Qwerty keypad
• Peek at your messages from any app with just one swipe
• Ultra brilliant meets Ultrafast
• Take BBM™ to a new level with BBM Video and Screen Share
• Capture the perfect group shot with Time Shift camera mode
• Plan events easily, collecting your photos, emails, web links and messages together in one place
• Up to 16GB internal memory
• 8 megapixel camera