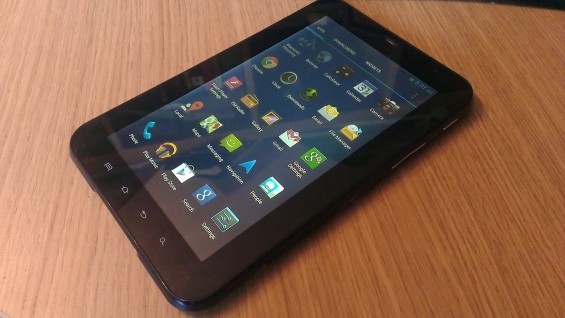 So, in the time after my original First Impressions post on the Gemini Devices JoyTab Duo 7 3G, a few things have happened. North Korea decided to try and bluff the world into a nuclear war, Margaret Thatcher died, I began revising for exams and the document that contained this review corrupted. Twice. So it's time to delve into the world of this Ice Cream Sandwich toting 7″ tab. As always, I'll start with the specifications and the good and bad points…
Good:
3G-enabled
Robust design
Decent screen
Good gaming performance
Bad:
Awful camera
It's a Galaxy Tab look-a-like
A few dropped calls
Specifications
Operating System
Google Android 4.0 (ICS)
CPU
Dual Core ARM Cortex MTK Processor
Graphics
Power VR SGX5X
Memory
1GB RAM
Storage
4GB Built in, upgradeable to 32GB with Micro SD Card.
Display
7 inch LCD – 1024×600 Pixels, Capacitive Multi-touch Screen
Connectivity
1 x Micro SD Slot (up to 32GB)
1 x Sim Slot
1 x Stereo Earphone Slot
Wireless
B/G/N, Bluetooth, 3G Data & Voice
Camera
Front 0.3M, Back 2M
Battery
5800mAh
Sensors
G Sensor, GPS
Dimensions
Width 190.2 x Height 120.5 x Depth 11.5 (mm)
Weight
276g
Design
The design of the tab is sparse, but it gets the job done – you won't find premium materials on this chassis. The textured plastic back took a bit of getting used to and made a bit of a racket when I ran my fingers over it, but it certainly seemed to be robust! The rubber port covers, which I was initially concerned about in my first post about this tab, stayed firmly in place and I got the impression that this would stay that way for the life of the device. The inclusion of capacitive buttons was a bonus for me, as, although in some cases you lose screen real estate compared to onscreen buttons, it helps give the tablet some character and the buttons are always in one place.
In fact, the only bugbear I have with the design of the JoyTab is that it very, very similar to the 1st generation Samsung Galaxy Tab – I wouldn't go as far as to call it a knockoff, but a bit more thought into the design of the tab (like on the JoyTab 9.7, which James reviewed earlier last week) wouldn't have gone amiss.
The screen is surprisingly good. It doesn't really compare to the glorious 178 degree IPS panel on the Nexus 7, but considering the price and the extra functionality built into the JoyTab it holds up quite well during normal usage. Colour reproduction was acceptable, although text and images sometimes appeared washed-out. The viewing angle was narrower than that on the Nexus 7, but still good enough for most situations (it'll stop people peeking over your shoulder, anyway…).
Software
Onto the software, then – the JoyTab runs 4.0.4 Ice Cream Sandwich, which isn't that recent a version of Android, but it could be a lot worse! I also have it on reasonably good authority that the JoyTab will be getting an upgrade to Jelly Bean in the not-too-distant future (no word on the release date or which version though). As with a lot of budget tablets, the stock launcher doesn't run too well, with a touch of lag creeping in when changing app pages (for example). Weirdly, other launchers (I chose Apex Launcher) run fine – I would strongly recommend, if you are considering buying this tablet, that you replace the default launcher.
Other apps work well, too – Jetpack Joyride and Angry Birds both performed flawlessly. Interestingly, Jetpack Joyride actually felt more responsive than on my Tegra 3-powered HTC One X+, but that could be due to the copious amount of applications I have installed on the latter device.
The 3G capabilities of the JoyTab are really the make or break feature – if you're looking at this tablet then I would imagine that cellular support was a key influence towards your decision. I'm pleased to report, then, that it works well – during indoor and outdoor testing it retained connection and was relatively fast on both GiffGaff and T-Mobile. The only issue I had was some dropped calls indoors, but that could be due to mu location rather than the actual tablet. I don't have this problem on either my HTC One X+ or my BlackBerry Dev Alpha C. Battery life when using the 3G functionality was acceptable, however, fitting into the once-a-day charge cycle I've come to expect from my devices.
I don't know about you, but I've never really had the urge to take a photo on a tablet – at any one time I've probably got two or three other devices that could take better photos with less hassle and with the added benefit of not making me look like a fool (there's a Tumblr dedicated to that, by the way). Either way, as the JoyTab had a rear camera I felt obliged to test it – and promptly wished that I hadn't. It's pretty useless. The front facing camera is better, and Skype works on it without any issues.
Conclusion
In conclusion, then, if you're looking for a cheap 3G-capable tablet then the Gemini JoyTab Duo 7 3G could well be the tablet for you. It performs very well for a price as low as £132.99. If you're looking for an WiFi-only tablet around this price range, then I'd advise that you stretch your budget a bit and get a Nexus 7 – or even better, wait until Google I/O later this year.