So you might have noticed that a few of us here at CoolSmartphone want to give you a bit of help selecting apps from the billions available on the Play Store. Most of us have been using our respective ecosystems for quite a while and built up a bit of knowledge. I have personally been an Android user since the HTC Hero landed on the scene back in 2009, and in that time I've seen apps come and go but today I have a few that I swear by. Let me just make a case for a few of them.
Action Launcher Pro
A big part of my Android experience is changing the way it looks, feels and (most importantly) the way I interact with it. Some of my favourite tweaks have come from custom ROMs, which is an ability I love with Android, but these aren't standalone apps so I'll brush these aside.
My current favourite app I have running on my Nexus 4 is Action Launcher, a launcher replacement with some very clever, simple, ideas that make my phone very pleasant to use. The big difference between this and other launchers is the app draw, no longer a big button in the dock you just swipe in from the left to reveal it. The apps are listed A-Z and you can even jump to specific letters to make navigation faster. I love this feature, it's a really nice way to open up the apps and really makes using my phone different to using my friends Android powered devices.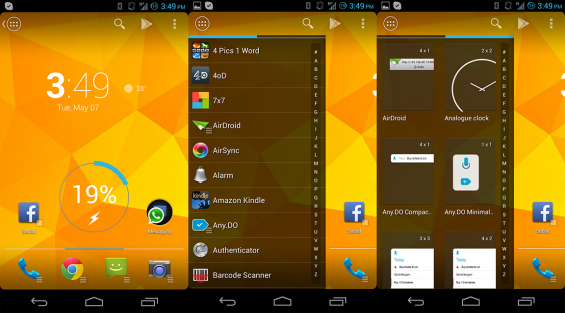 Another couple of cool features are 'Covers' and 'Shutters'. Covers are like folders, but when you click the folder the top app in the folder (now the only visible icon) will launch. Swiping up from the cover reveals the rest of the apps. Shutters are apps that have widgets that can be placed on the screen, although when you place that apps icon on the screen a swipe up will reveal the widget so you don't have to have it taking up space. Both these features have a small symbol over the regular icon so that you can differentiate it from a regular app icon.
Action Launcher Pro can downloaded from the Play Store for £2.79, no free version exists but this is worth the money. That and the developer, Chris Lacey, is very vocal on twitter and G+ and willing to listen to any feedback you may have. I've suggested a few items to him and he always gets back to you.
Play Store Link – Action Launcher Pro
Glympse
How many times have you been traveling to see someone or traveling away on holiday and during aforementioned travel you get hassled by friends and relatives asking "Have you arrived yet?" or "How long till you get here?". This is a really frequent occurrence for me and this app really helps to shut people up.
It's called Glympse and allows you to send a link to your friends that gives them a real-time view of your location. Firstly you prepare who the 'Glympse' is intended for, from this list you can send it via email, text, facebook, twitter, whatsapp…the list is quite long. Then you can pick how long until the link will expire, meaning once you've got to your destination you will no longer be tracked. Finally you can add a few optional extras like a message or an intended destination.
I've used this app with holidays, specifically for coming home. If you are set to go out once you get home your friends don't have to keep bugging you to find out what time you'll be back, they can just check the link. Even if you get stuck in traffic, it will show on the tracking page and things can be rearranged.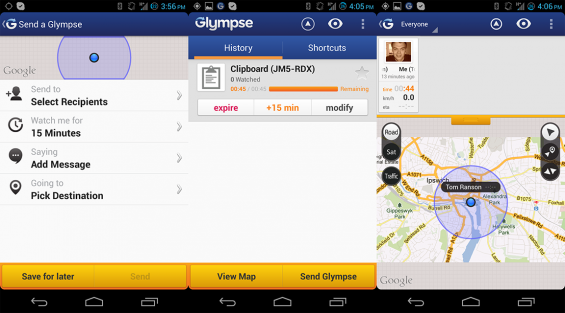 Glympse can be downloaded absolutely free from the Play Store so there really is no reason not to at least give it a try…
Play Store Link – Glympse
Mr. Number
This app has been so handy because I seem to get a daily call from a number that (Google tells me) belongs to Vodafone, but I have never used them in my life.
Mr. Number is just a simple app that will re-direct calls to voicemail or (and I love this one) just straight up cut them off. When you boot it up you just have a list of all the people that have called or texted you. From that list you can select a number and set how you'd like it to be handled. Easy. I can confirm it works a treat and there isn't really any more to it…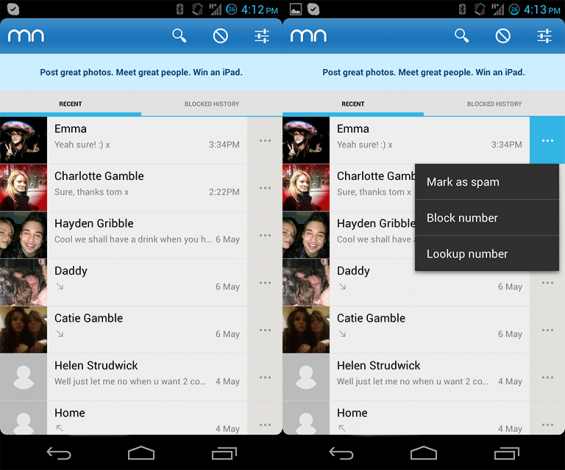 You can get Mr. Number for free from the Play Store, again, why wouldn't you try it.
Play Store Link – Mr. Number
Toshl Finance
Are you appalling at keeping track of your money? Do you spend too much money on gadgets and not enough on food and bills? Yeah…me too.
Toshl Finance is a brilliant service that has a companion app for a whole range of mobile platforms, I'll obviously keep to the Android one here. As you would expect this is a fairly easy to use finance tracker. You can input your spend for the day and set budgets and limits for everything, you can also set up recurring payments either into or out of your accounts. The web portal gives you comprehensive charts to track your payments and the mobile app gives similar data but with less detail. My favourite part of this app though is how you log your spend during the day. There is a widget that you can place onto your homescreen, clicking it brings up a calculator-esque interface to type in the amount, then you're greeted by a screen that allows you to add tags to each spend. This is where the service will attach each payment to particular budgets you've set, and the more you use a certain tag the higher up the list it gets, making future payment logs quicker to complete. It's so simple to do and having that widget on the homescreen reminds me to log spending more.
Toshl Finance is a free service and the app on Android is also free!
Play Store Link – Toshl Finance
RoundR
I've been trying to keep to a theme in which the opening paragraph of each app section explains the problem it is solving…this one isn't solving a problem, it's just making things pretty.
Do you wish your phone UI appearance emulated WebOS a little? Probably not. But it does look kinda cool when you have rounded edges to the screen. Up steps RoundR. Running in the background this little app just rounds of the edge of everything and makes things look a little differently. That's pretty much it, I just really wanted to mention this because I think it looks really nice. Here are some examples…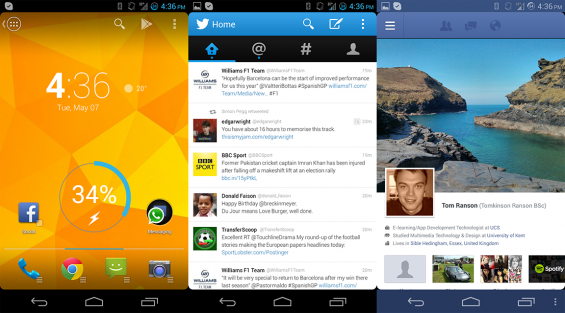 RoundR is free (as always) on the Play Store. Go grab it.
Play Store Link – RoundR