I'm one of those people that always has to have a case on my phone. I usually go through several for each phone I have, as I like the change it brings, and most cases have a flaw of some kind or other.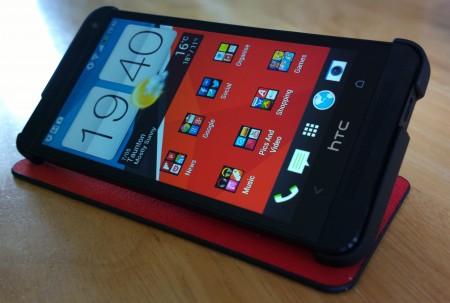 To go with my new shiny HTC One, I decided to go with one of the official cases from HTC, the oddly titled 'Double Dip Flip Case'. Now I don't normally like flip cases either, as I find the flap gets in the way when taking video etc, so I was fairly negative about this review before the case arrived.
I have to say though, that has changed. Yes, the flap is still occasionally annoying when taking pictures or video, but the offered protection it gives is fantastic, and the 'hinge' part is very loose after a few days use (a good thing!) which means it's really quick and easy to flip open and shut. I should point out that at first, the 'join' is fairly stiff, and when folded over, if placed on a desk the case doesn't stay shut. This is fairly irritating at first, but once it settles in for a few days it's fine and sits perfectly.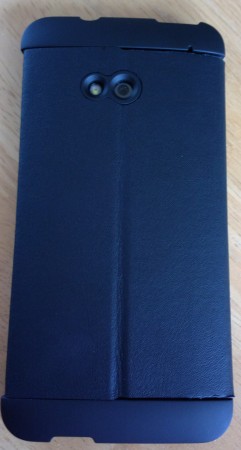 There are two holes in the back of the case for the camera lens, and the led light. A past bugbear of mine has been cases on which these holes are too small, reflecting the light from the 'flash hole' into your photo, ruining the shot. I'm pleased to say the HTC case doesn't suffer from this, shots with the flash are fine.
The case also doubles (hence the catchy name I'm assuming) as a stand to watch videos, movies, etc… The interior lining of the case is suede, which feels great and the phone sits perfectly without a hint of wobble or that it might slip.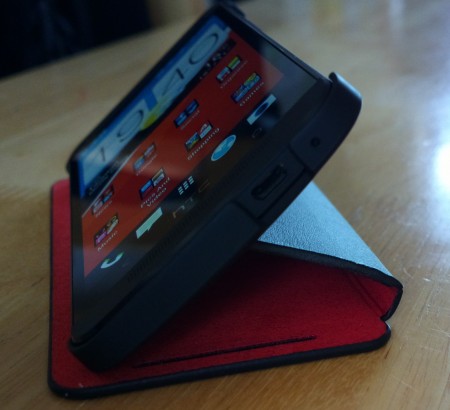 The only negative I would mention is that the build quality of the case isn't in keeping with it's price tag. It doesn't affect the functionality, but some of the seems and joins look a little rough around the edges.
That's really my only slight complaint though. HTC have done a really great job designing this case, and if you're a fan of flip cases I can highly recommend it.
Thanks to MobileFun for the review unit.
MobileFun have a veritable plethora of cases for the HTC One so check them out.
Link – MobileFun HTC One Cases