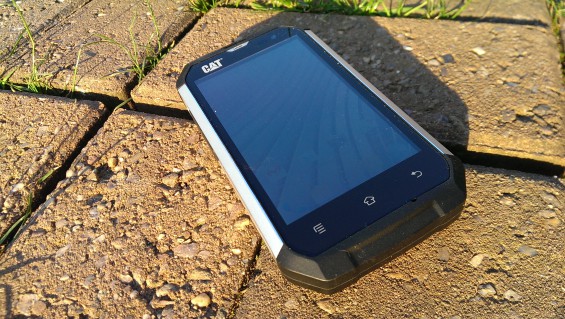 It's a sad fact that, if you choose to go for a traditional "tough" or "rugged" phone, people have often pointed and laughed at you.
Oh, come on, don't pretend. It's true. Deep down you also know that you've cut some corners too. The screen is rubbish, the specs are pants and for some reason it creaks when you hold it. You can't do all the things that other phones can do and somehow it looks like a toy.
Rugged phones have always had a difficult time because of this, and I think it makes it worse because there's some sort of assumption that those wanting a rugged phone also want a simple one, and that's just not the case.
The Cat B15 is the first phone from digger-maker Cat. Their big yellow machinery is distinctive and obviously strong, but a phone needs to try and tread that line between "strong", "stylish" and "smart".
First, let's get the misconceptions out of the way. Firstly, this doesn't have a screen which gets hot to warm your pasty. It doesn't come pre-installed with a copy of The Sun either and there's no torch, but can at least use Google Maps to find yourself a good pub. Boom.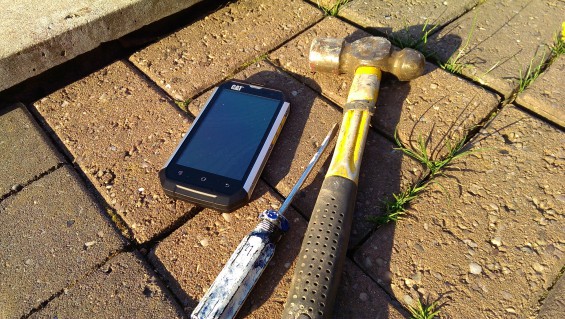 Specs
Dimensions – (H)125 x (W)69.5 x (d)14.95mm_
Weight – 170g_
iP67 – WaterProof, up to 1 metre for 30 minutes, impervious to dust
Display – 4" Capacitive multitouch Corning Gorilla Glass (800 x 480) wit wet finger tracking_
Connectivity – Bluetooth (EDR), Wi-Fi, GPS
OS – Android™ 4.1.2 Jelly Bean
Camera – 5 megapixel rear camera with continuous shooting, VGA front-facing camera
Other – FM Radio
Operational between – -20°C to 55°C
Drop tested – Ip to 1.80m
CPU – Dual Core 1GHz
Memory – 4GB Storage (Expandable to 32GB with microSD)
Battery – 2000mah_
Talk time – 16.3 Hours
Standby up to 26 days on single SIM and 19 days on a dual SIM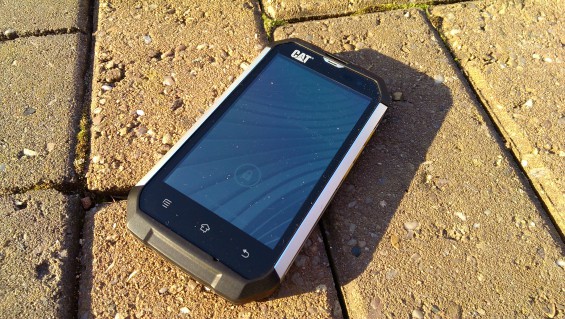 Initial thoughts
OK, the screen is OK, but I have to say that, on standard "automatic" brightness, it's still not as bright or as vivid as the top-end smartphones. AMOLED, super AMOLED? No, not quite. It's decent enough though, and far better than any screen I've seen on one of these "tough" phones before.
Dropped from 1.8 metres? Well, we didn't test that (I think I would've totally upset the guys from UR Mobile, who loaned us the B15). However, we had a very good chat with the guys behind this phone and I know the lengths they've gone to in order to test this. Everything from how the battery contacts are positioned to how the SIM cards are held in.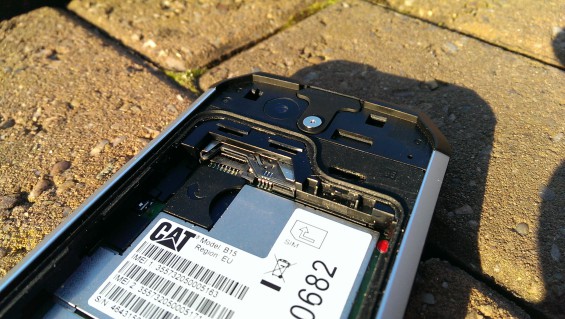 Wait.. SIM cards ? Yes, you can have two SIM full-sized SIM cards in here. One for work, one for play. You can run your business from this and still use another SIM for data, or for texts, or for personal calls, whatever. You can set it up the way you want. The inclusion of two SIM card holders, one of which slides out to make it easy to slot in, is a real bonus and I'm glad that the makers have thought about what their customers want. I put my Three SIM card in and my work Vodafone SIM in and this screen appeared when I booted it back up (which it does very quickly by the way). I can then set things up just how I wanted..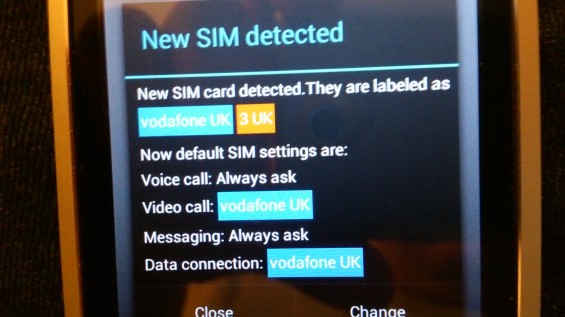 So there's no weird button pressing or key combinations, it'll just ask you before you text or call someone. Incoming calls will be labelled, so if I get a call on my 3 UK SIM, it'll appear in an orange colour. Likewise, incoming "work calls" on my Vodafone SIM will have a blue banner at the top of the incoming call window, so I know to answer the call in a professional manner. Running your business, keeping your social and home-life in check, all in one tough phone? That's a bit good that. I like that.
Oh, and on the main screen you'll get your signal bars too, one for each SIM…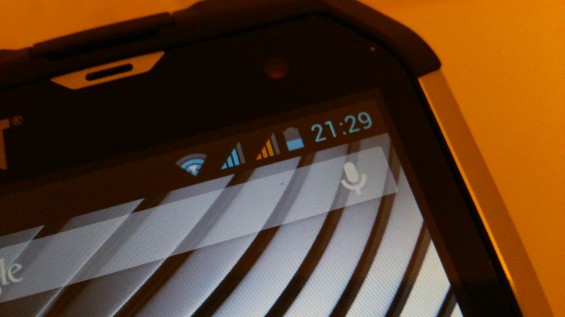 Other things that surprised me? Well, battery life for one. That 2000 mAh really does last, and I've not charged it once in the whole time I've been reviewing it. Build quality is another tick in the box for me. It's solid and well built. Well designed too.
Inside the box there's replacement "flaps", which cover the various holes on the device to keep it water-tight. Great news if you're worried about those flaps coming off easily. They're actually held on pretty solidly with beefy screws, and there's a screwdriver in the box so that you can remove and re-add them. It might scream "man phone" at this point, but I can actually see this appealing to women too, and no matter how many times you drop it, the B15 will definitely hold up better than those shiny smartphones costing double the amount.
The OS is largely untouched too, and it's Jelly Bean, so expect Google Now and all the latest Android goodness. Cat have added a few shortcuts to some of their mobile-enhanced websites, so I can look at the Cat.com website, the Cat Rental site, Cat Phone, Parts Store or perhaps browse around the range of used vehicles…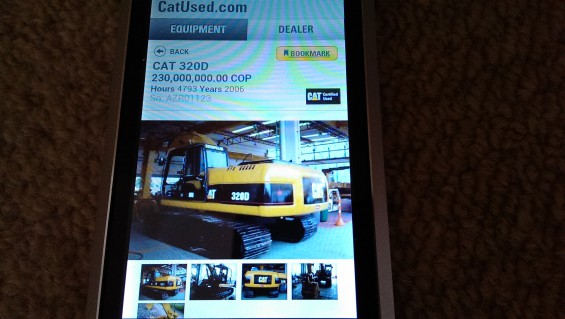 If you've not already seen, we tested out the water-proofing in our earlier story and you can see the full article here, However, I can definitely say that the Cat B15 survived a drop in the bath without any issues. It is, I must say, important to keep those flaps firmly shut and the back locked in place to ensure that the water doesn't get in.
Exterior
As I touched on before, this is a solid and sturdy handset with smooth aluminium strips screwed to each side of the device.  These have visible screws and bright yellow buttons whilst rubber buffers sit on the top and bottom of the handsets.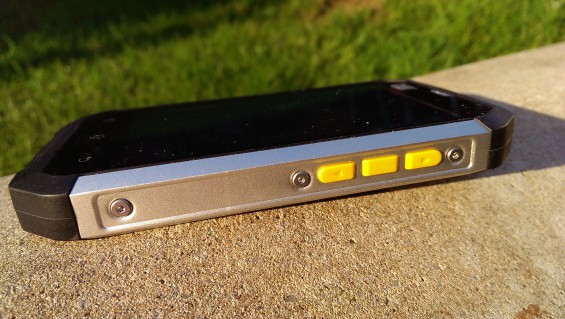 Here, on the right-side of the device, there's three buttons – volume up, volume down and the camera button. The camera will do continual shooting – press and hold the camera button to fire off photos quickly, or switch to video mode. You can zoom in and out during the video recording and pause the recording too. The camera button is in a slightly awkward place for me, especially as a right-handed person. It seems that, when turned into a landscape orientation, the button is under your left finger.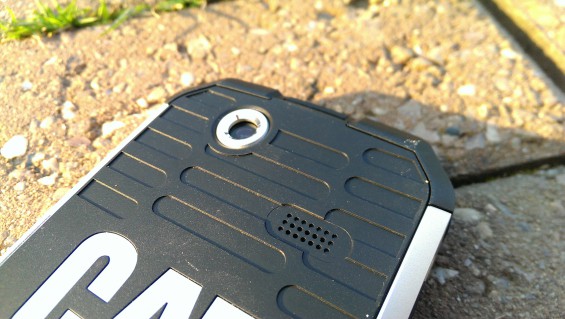 The 5 megapixel camera performs fairly well, although there's no flash on this unit. I've included some example photos a little further on to show how it performs. As you can see, the rear section is a solid rubber again and has the huge CAT logo emblazoned in silver on the rear. You may also notice that grill for the external speaker. It doesn't actually let any water in, neither does the camera. Don't ask me how, but after dropping it in the bath I can definitely say that it doesn't.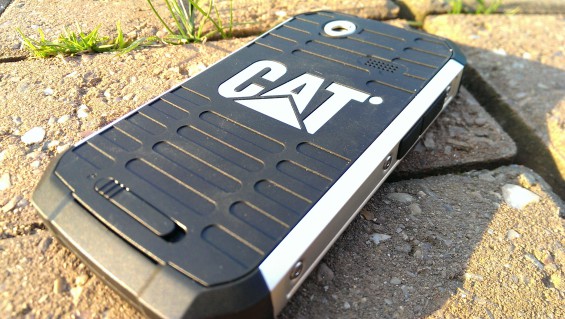 The top of the handset is a chunky slice of rubber with a single flap hiding the 3.5mm audio port. Another yellow button for the power.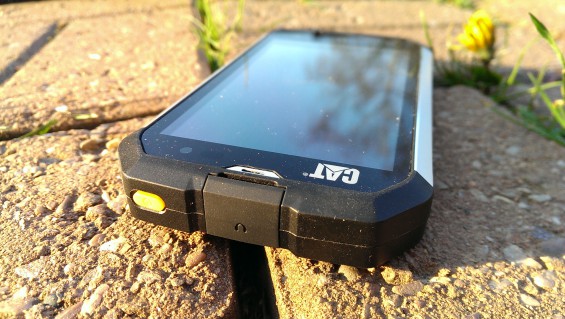 On the left side there's another chunky-yet-flexible flap covering the microUSB charging point. You can also plug this into your computer to move data around..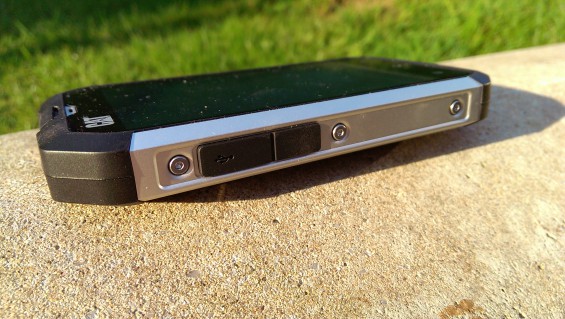 At the top of the screen here you can see the VGA front-facing camera, earpiece (which yes, also survived the water splash) and proximity / light sensors, plus another CAT logo.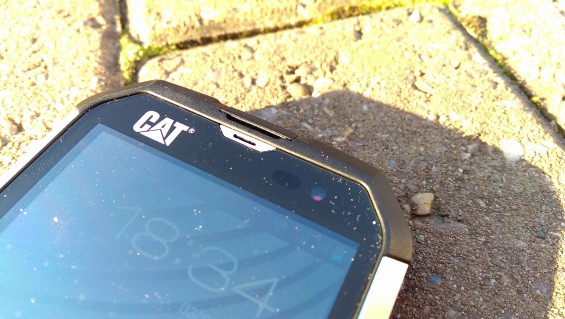 Camera Examples
In the daylight the camera, which is a 5 megapixel unit on the reat, performs pretty well, but in low-light the lack of flash causes shots to be dark and perhaps blurry if you don't hold the camera steady. That said, if you do have enough light, videos and photos taken on the B15 aren't that bad and you can stick your own microSD card in for extra storage.
Inside
As mentioned before, there's no extra GUI tweaks or additional plugins to worry about. This is a fairly standard Android Jelly Bean experience and, to be honest, I quite like it that way. There's an FM radio, data usage indicators, a nippy browser with all the pinch / zoom action (even with your wet fingers) and, yes, it'll even record video whilst you're under water if you absolutely need to. 🙂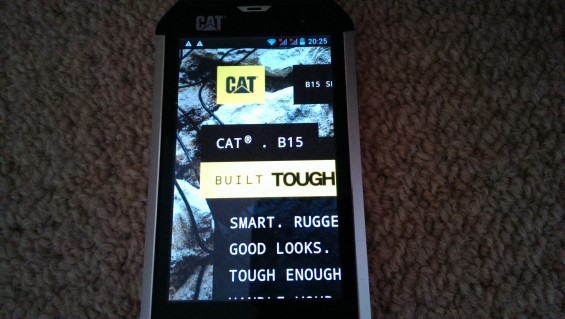 As usual there's access to Google Play so you can download and play with all the apps that your mates use. I'm actually quite glad to be writing about a "tough" phone that can play with the "smart" phones too for once. The screen size and processor isn't far off those super-high-end phones and you still get play Angry Birds.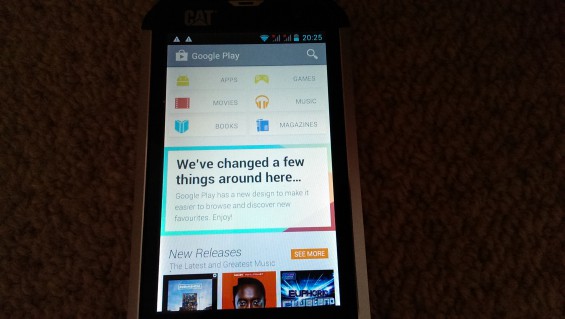 An interesting little extra I spotted in the settings was the "Scheduled power on and off" app. It does pretty much what it says on the tin and this really is something I've not seen on a phone for such a long time. Remember those handsets that used to sound the alarm even when they were powered off? Oh yes, those were the days. We're slowly getting there now..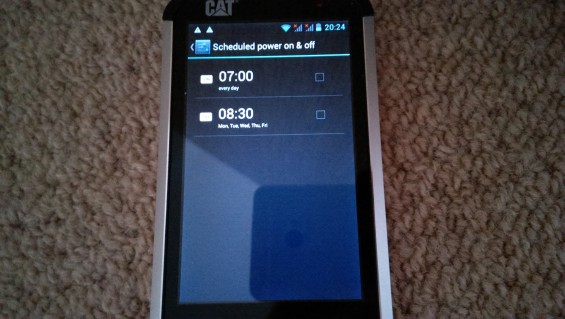 Whilst we're in the settings I should just mention that you can do all the usual things like accessing WiFi, setting up Bluetooth connections with your car or headset, setting ringtones, backdrops, audio profiles and adjusting the brightness.

Widgets can be dragged onto the home screen of course, which help to make the device exactly as you want it. Here you can see just a selection, but we have a Messaging widget, Music Playlist, News and Weather etc. You can add more via Google Play too, and you can create shortcuts to your most-used apps on the homescreen.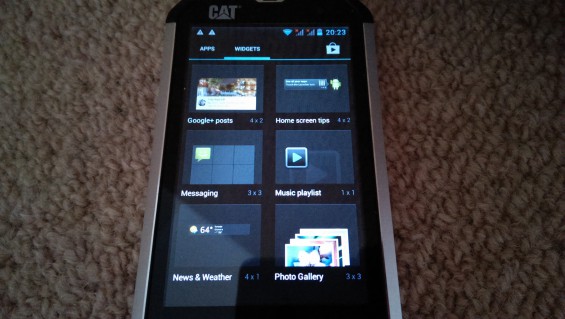 Here's a selection of the apps available. The stock Android web browser fits the job nicely, but of course you can download Chrome (as I have below) or other browsers easily. All the Google Apps are on here (Google+, YouTube, Google Maps, GMail), so you can reply to email on the move, check prices and effectively run your business from this handset, then go off and have a few beers safe in the knowledge that if you drop it everything will actually be OK.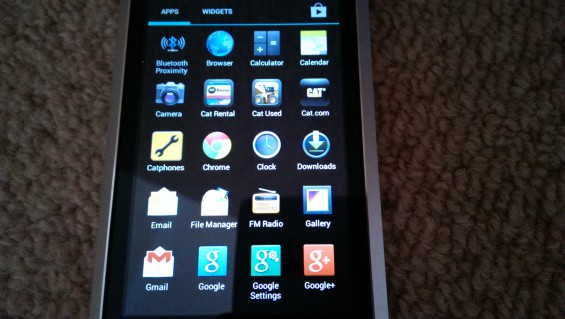 Final thoughts
This is the most feature-rich "tough phone" I've ever reviewed. Sure, the specification isn't-quite-as-high as your mates' Galaxy S4 or HTC One but this has survived drops, survived a swim in the bath and it actually looks good too. This isn't "just" a standard phone with a whole load of rubber wedged on, this has been designed from the ground up, and it shows. This is a phone that you can run your business from while you're listening to the built-in FM radio. This is a phone with two SIM cards so that you can have your work and home life in one device, and it's tough. Woah, it's tough.
In the past we've looked at other tough phones, most notably from JCB, but CAT have really set the bar high here and I'm really impressed with the thing. This isn't just for your builders or mechanics, this is for everyone who has ever dropped a phone.
The Cat B15 is available unlocked for £295.96 from UR Mobile.