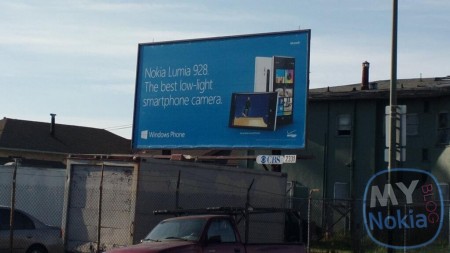 Nokia Lumia 928 marketing meeting, May 2013 – "No videos, no secret photos, no leaks and, no matter what, no billboard posters until 14th May. Right, everybody got that? Good".
Oh dear, somebody was too busy playing Cut The Rope during that meeting, because a full ten days before the launch of what is rumoured to be the new Nokia 928 there is a billboard in Oakland California enblazened with an advert for that very phone. It was spotted by a fan of fellow tech site My Nokia Blog.
The wording on the poster reads "Nokia Lumia 928. The best low-light smartphone camera". This points to the rumour that the 928 will have a xenon flash, but we've been expecting an 8-megapixel PureView camera like that in Lumia 920. Is this a hint that the sensor is being upgraded too?
Now, it must be pointed out that this could well be a Photoshopped image. However, it looks pretty damn real to me (he says, setting himself up for a fall!).
We're actually expecting the launch of the Nokia Lumia 925 on 14th May in London, but the Lumia 928 is just the American carrier Verizon's version of the same phone.
Here are the other technical details that have been leaked in relation to the 925/928:
4.5-inch WXGA HD OLED display with 334 pixels per inch
1.5GHz dual-core Snapdragon S4 processor
1GB RAM
32GB Storage
2000mAh battery
We've seen another rumour that we'll soon be seeing the Nokia Catwalk, which is believed to have an aluminium body rather than the usual brightly coloured plastic that has become synonymous with the Nokia Lumia ranges. If the rogue billboard is to be believed then it looks very much like the 925/928 will continue with the traditional plastic build, and therefore the Catwalk is another treat the Finnish company have in store for us.
Whatever happens, coolsmartphone will be at the Nokia Lumia event on 14th May so you don't have to be; aren't we good to you?