Microsoft have released an app that on the surface seems harmless and almost helpful, but it makes me wonder about Microsoft. The app is meant to make the move to Windows Phone easier.
Here is how they sell the app.
Are you thinking about switching to Windows Phone and want a convenient way to migrate your app experiences over? Look no further, Windows Phone has an app for that!
Use Switch to Windows Phone to see how many of your Android apps are available on Windows Phone. Just run Switch to Windows Phone on your Android, and this app will check to see if your installed apps are available in the Windows Phone Store. It's that easy.
Then (if you choose) Switch to Windows Phone can save your results so you can retrieve them later on your new Windows Phone and install the apps. You don't need to remember every app you had on your Android, and you download only the apps you want.
Features:
• Scan the installed apps on your phone
• Find the Windows Phone equivalents
• Save the personalized match results to retrieve later on your Windows Phone
The idea is to install it.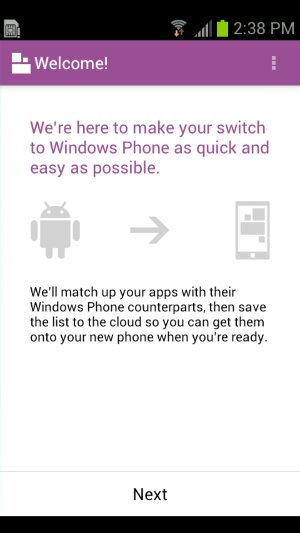 The app then scans your installed apps.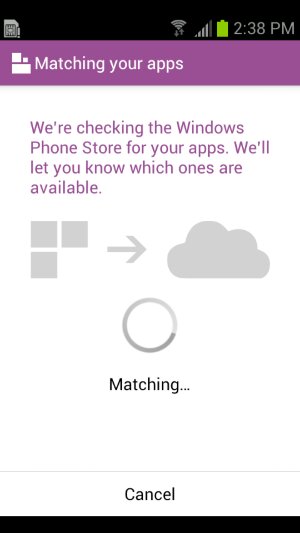 The app then shows you the results. Although you only get a percentage not a specific list as your result.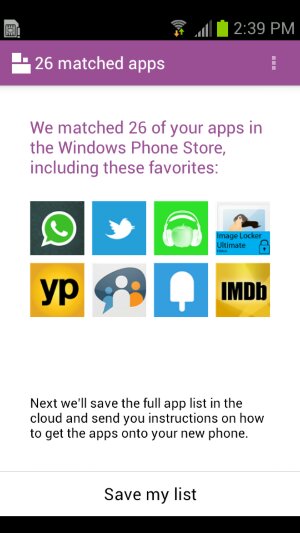 So it's really that easy is it Microsoft? Even I as an avid Windows Phone user find this app a bit desperate. I guess it is meant for people who have just made the move to Windows Phone and not for people who are thinking about moving.
As usual with Microsoft apps the reviews are pretty scathing. With many people complaining about the supposed Cloud sync and the lack of actual information given in the app.
It isn't available for UK users at the moment, hopefully it will be soon and I can try it out a bit more. I guess a companion app for Windows Phone will come out soon which will enable the syncing. If you're in the US the link below should work.
Play Store Link – switch to windows phone