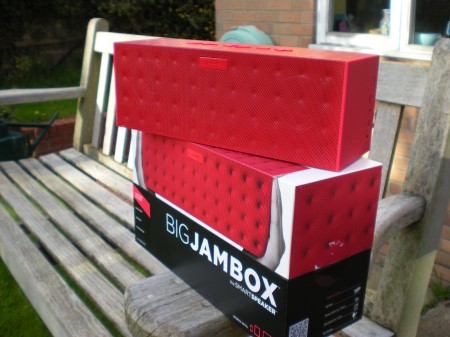 One of the phrases I seem to be using more and more is "…and you paid how much for it??". Despite nobody appearing to have any money, it seems we are big fans of those 'Premium' products. I mean, why else would people be buying the BMW 1 Series…?
Say hello to the Jawbone BIG Jambox. Not content with charging you £159.99 for a bluetooth speaker, Jawbone launched (last year) the BIG Jambox! It's double the size and almost double the price at £259.99. There isn't an awful lot more to it, it is just literally bigger. But because it's bigger, the battery will last longer (that's bigger too of course, good for 15 hours apparently) and there are a few more buttons.
So, you've sold a vital organ and that shiny Charizard you've been hanging on to and you've raised the money for it, What's the initial impressions? Well, as soon as you pick this thing up you are in no doubt that this thing is awesome and all thoughts of the surgery and that painful goodbye with Charizard are a distant memory. It has a weight to it that I can only describe as 'sturdy' and the fit and finish of all the parts are exceptional. The majority of it is a metal mesh but each end is entirely a soft touch rubber material. The design of the device is, no doubt, impressive. I still can't help but think about how much it cost though…
Getting started is easy. Hold the power button and it makes an exciting noise letting you know that it's powered up, hold the sync button and the lady in the box tells you she is in pairing mode and waiting for a connection. She's nice. Once you've connected up your phone it's simply a matter of booting up some sort of music or video app and the sound comes flowing out. The audio quality is as you'd expect, excellent. Personally though I found the bass a little too heavy (the BIG Jambox does boast 2 'Passive Bass Radiators' though) and not enough finer detail, both of these could be solved by messing with the equalisation settings on your phone though. One gripe I had with the sound was that when I had my phone volume set to it's maximum the lowest volume on the Jambox was still quite loud, I know I can always turn the volume down on the phone but everything else I have that is bluetooth manages to be quiet enough.
Since the Jambox has a microphone built in it can be used as a full bluetooth hands-free set, and it doesn't disappoint here either. Voice quality coming through is excellent, I could hear everything that the caller was saying and it was clearer than a lot of other bluetooth devices I have used. The caller remarked that, while the quality of my voice was very good, you could tell that I wasn't actually holding the phone to my face and was using some sort of hands-free. When a call comes in the lady in the box speaks up again, she will read out the number of the caller so you know who it is. While this is handy, I don't know any of my friends numbers off by heart so I wouldn't actually know who was calling. There is a big button on the top of the speaker that answers the call so at no point do you really need to interact with your phone.
Through every interaction with the speaker you get an audible chirp as confirmation. All the different noises it makes are quite pleasant, it's another reminder that a lot of thought has gone into this and it reaffirms that 'Premium' tag. The ladies voice is nice.
Along with a subtle tweak to the audio levels I also found myself wishing for it to have NFC as a method of syncing the phone. I'm not sure why as I've never had this feature before, but the whole product screams 'Premium' (I'll stop making that connection soon I promise) and it feels like that feature belongs here. My reasoning behind it is that it feels like this product is more than just a speaker that you carry around to play music through or have the occasional phone conference. I can envisage having three or four of these around the house in different rooms, switching between them as you move about the house to have music wherever you go. Certainly it's price suggests it wants to compete with the likes of Sonos in the home audio market. Thus having a simple way to connect and switch between speakers would be very handy.
Along with all these features the speaker is also marketed as a SmartSpeaker. You can plug it into the computer via USB and get access to different apps and features that expand the functionality, unfortunately I only had a very limited time with it so was unable to have a play with this aspect. Through these apps though Jawbone claim you can enhance sound quality with firmware updates down the road…and such other things.
All in all, it's a fantastic product. The sound quality is superb, the build quality is very impressive and the feature set is very wide. Is it worth the £259.99? I'm not really sure it is, sure it's very good at what it does but couldn't you do the same job with something a little cheaper? Even the smaller Jambox might make a better choice. If you are willing to pay that sort of money though, I would wholeheartedly recommend it. It really does look great and is an impressive addition to your wireless sound system.
The Jawbone BIG Jambox can be bought from many of the major electrical retailers or straight from Jawbone for £259.99.

That lady really was very nice. I miss Charizard.