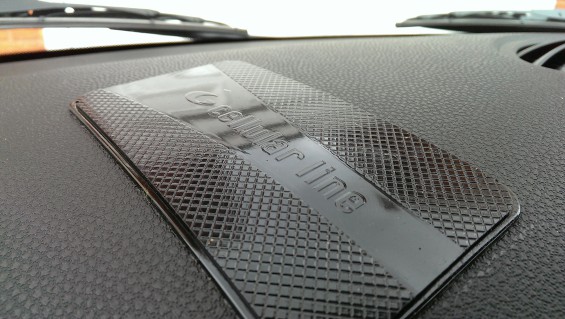 Right, let's make this punchy shall we?
You're driving around. You do either one of two things. You either dump the phone on the passenger seat or strap it into some sort of car holder. The first option will probably see your phone getting wedged between the door and the seat when you go round a bend, whilst the second option will see you getting the suction-cup out of the glove-box and getting the phone fixed in properly.
This could be your third option. It's the Cellular Line GRIP Anti-Slip Pad. It's stretchy, black and a little bit sticky. It's like those toys my son has to throw and stick to the wall. Indeed, this will stick to the wall too and, if you ever lose the stickiness, you just give it a quick rinse and bingo – it's back to brand-new again.
Particularly good if you get fluff, dust or bits of chocolate biscuit on it.
Not that I eat biscuits when I'm driving.. oh no…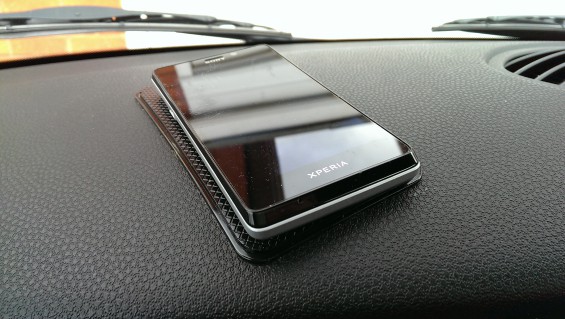 Anyways… it's just a matter of taking this out of the packet, slapping the pad onto the dashboard and then you just pop your phone in it. I've tried a variety of handsets and they all seem to work very well indeed. The pad is easy to move around the dash and it really does hold onto your phone rather well. I've taken a pretty long drive involving lots of A-roads, country roads and roundabouts and never had a problem.
There's no sticky residue and no glue involved, and it's easy to peel off and re-position. It worked a treat.
Perhaps the best way to show this is through video…
If you want one of these then I really can't find fault with it. It does exactly what it says on the tin and held the phone perfectly at all times. It's available from Mobile Fun for £7.95.