Last week we covered the availability of the Acer Liquid E1 Duo from Expansys. I liked the idea of it as I have a bit of a thing about Dual Sim devices. Well Acer have now actually announced it's successor already.
The Liquid E2 comes in either single or dual SIM configurations depending on the market and it also comes in black or white, again I have a thing for white devices.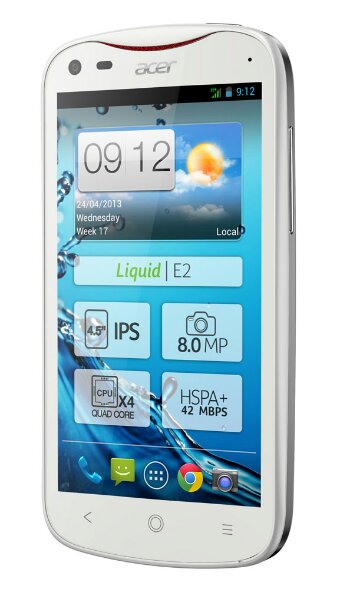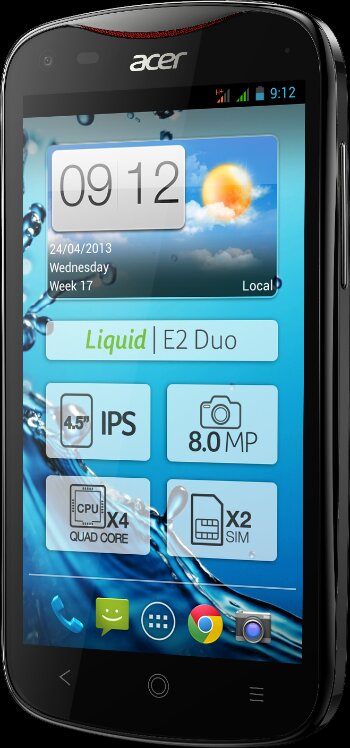 Spec wise as I pointed out last week the Liquid E2 isn't anything astounding, but if the pricing from Expansys last week is anything to go buy it could be quite an appealing device. Especially if the white one appears in this country.
Highlights of the Liquid E2 are the Quad-core processor, 42 Mbps connectivity, stereo audio via dual speakers, 8MP camera with fast continuous shooting and 1080p video capture.
Spec wise the Liquid E2 is as follows
Liquid E2 Specifications
Dimensions 131 x 68 x 9.9 mm
Weight 140 g (with battery)
Battery Capacity 2000 mAh
Radio HSPA 900 / 2100 MHz (42Mbps DL, 11Mbps UL)
CPU / Modem Quad Core 1.2 GHz
ROM / RAM 4 GB / 1 GB
Camera 8 MP AF with flash LED, BSI sensor + 2MP front
Display LCD 4.5" qHD
Micro-SD slot
Dual SIM or Single SIM
Android Jelly Bean
So let's just wait a few months for someone to actually stock one and maybe I'll get myself one, dual SIM, removable battery, Micro SD slot and no doubt a bargain price.