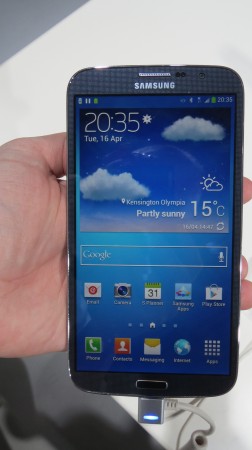 The Samsung Galaxy Mega has been more or less official for the past week or so, at the end of the London Samsung Galaxy S4 World Tour event on Tuesday night it was announced that there would be Mega handsets available for demonstration, and so I finally got to play with one.
Initial Impressions
There are two initial impressions that I'm sure everyone will have, either:
Whooaaahhh, that's a massive phone

or

Oh, that tablet's a bit small
Then they'll laugh.
Once they've wiped the tears from their face they'll realise that this is actually a pretty impressive… errr… thing.
With a 1.7GHz dual core CPU and 1.5GB of RAM it certainly flies. That 6.3-inch screen is definitely lovely to look at, and the weight (or lack of it) is quite striking.
European Vice President for Samsung Telecom Operations, Jean-Daniel Ayme, and CEO of Samsung Europe, SP Kim, were both at pains to point out that this is a media device, designed to be used one handed. It's a niche market that I'm not sure exists, but Samsung's catering for it anyway.
"Because It's Not a Flagship"
What they didn't say is that it's not getting all the software extras that the Galaxy S4 is. According to the rep who demonstrated it to me, it'll have the Air View, S Translator and Group Play, it will be devoid of Knox, Smart Pause/Smart Scroll and S Health. When I asked why she said, "Because it's not the flagship; we need to keep those features back so they are exclusive to the S4".
This has other implications though. You see, at the New York event when the Galaxy S4 was launched Samsung proudly announced that the new suite of extra software features would also be rolled out to the existing high end handsets, such as the SIII and Note II. If the Mega isn't getting all of it, then surely the older handsets won't either. And what about the new Note range? Time will tell.
There is actually a Galaxy Mega 5.8″ going on sale elsewhere, but we're not getting it in the UK. Perhaps we just have freakishly large hands as a nation?
Specs
Display: 6.3-inch (159.7mm), 1280 x 720 TFT
Processor: 1.7GHz Dual Core AP
Memory: 8/16GB Internal Memory (microSD up to 64GB) + 1.5GB RAM
OS: Android 4.2 (Jelly Bean)
Camera: Main – 8 megapixel, front-facing – 1.9 megapixel
Video: 3GP, MP4, AVI, WMV, FLV, MKV
Audio: MP3, M4A, MP4, 3GP, 3GA, WMA, OGG, OGA, AAC, FLAC
Services & Additional Features: Group Play, S Translator, Air View, Multi Window
Connectivity: Wi-Fi a/b/g/n/ac, WiFi Direct, Bluetooth 4.0(BLE), USB 2.0 H/S, GPS+GLONASS, NFC, MHL
Sensor: Accelerometer, RGB light, Geomagnetic, Proximity, Gyroscope
One physical and two capacitive buttons
Dimensions: 167.6 x 88 x 8 mm , 199g
Battery: Standard battery, Li-ion 3,200 mAh
Conclusion
I think the Samsung Galaxy Mega 6.3 will be a fantastic media device, but when I tried to use it with one hand I almost dropped it. Does that mean it fails in its design brief? Well, yes, I'm afraid it does; for me at least.
The main problem with the Mega is that it's not being treated to all the bells and whistles that the S4 is, but I can't see it being any cheaper. Also, I don't care what they say, it really is too big to be a phone.
Price and availability haven't been confirmed for the Galaxy Mega 6.3, but we'll let you know as soon as they are.
In the gallery below you'll find comparisons with the Galaxy Note II and (for a giggle) the Nokia Lumia 520. It's only when you see it against a Note II that you realise just how big the Mega is.
Purav from PDTechHD, one of my launch event buddies, managed to get a rather good video of the mega, so we've decided you might like to see it too: