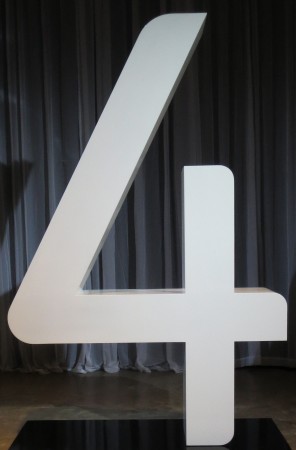 Like the look of the Samsung Galaxy S4 and want to know more? Me too. Like Jason Bradbury? Yeah, he's OK. Like Gary Barlow? Me either!
Well, if you liked at least one of those then you would have enjoyed the Galaxy S4 World Tour event in London last night. For those of you who weren't there, here's the low-down (without any Gary Barlow).
Last night (16th April) Leigh undid my shackles and let me out of Coolsmartphone Towers all on my own. He said, "Go forth to old London Town and get me an S4 before dawn", you know, like he does. I didn't manage to steal a handset, but I did get him the information below (I'm shackled up again now).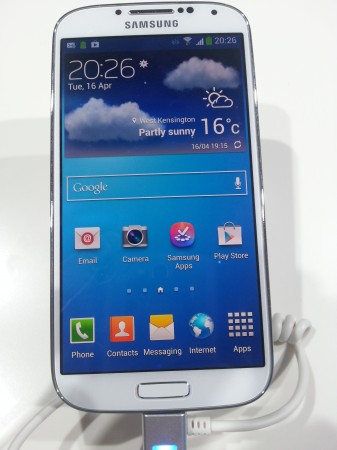 The UK launch event of the Samsung Galaxy S4 was held at the Kensington Olympia in front of several hundred people. Introduced by president and CEO of Samsung Europe, SP Kim, the event featured Jason Bradbury (The Gadget Show) and European Vice President for Samsung Telecom Operations, Jean-Daniel Ayme. The event was a far more professional and far less cabaret than the New York event (thankfully).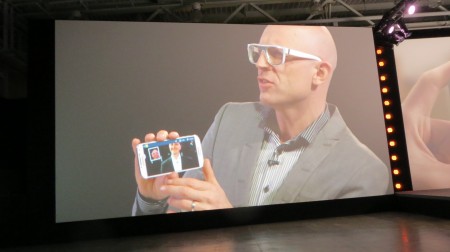 The contents of the presentation were much the same though. They went through the tech specs (see below) and all the extra software that is included.
Launch date change
Previously it was announced that the Galaxy S4 would be released on 26th April, however, in this presentation we were told that it will in fact be at 10am on 27th April! Put it in your diaries folks.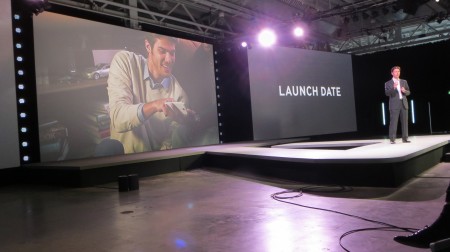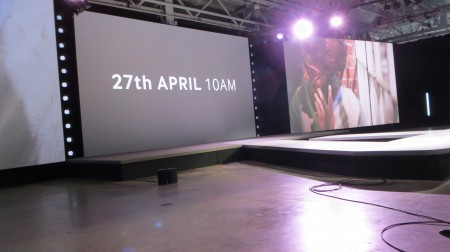 A bonus was the official announcement of the Galaxy Mega 6.3, which I'll go into in a separate post.
After the presentation we got to play with the handsets, so I tested everything I could.
Initial Impressions
The screen on the Galaxy S4 is truly exceptional. Much better than the Sony Xperia Z, and too close to call with the HTC One. I'd give it the nod over the One though, as it's that little bit bigger, but with the same excellent definition.
The handset is very light for its size. This is impressive for a large phone (not quite a phablet), although the age old complaint about the use of plastic in Samsung devices holds true. They seem to have made it even thinner, which gives the phone a cheap feeling. I would have sacrificed the extra weight to have a thicker plastic, and even more for a metal body.
Having said that, the phone does look classy, if a little 'last year'. After all, it's pretty much the same physical size as an SIII and many people wouldn't see a difference in passing.
As you would expect from a 1.9GHz quad-core beast with 2 GB of RAM, there was no lag and everything ran at impressive speeds. But then, my Note II's no slouch…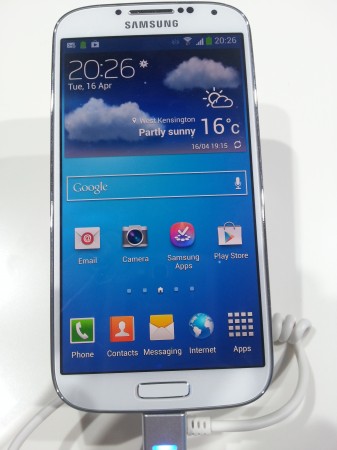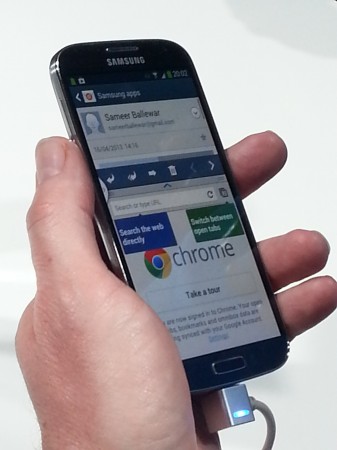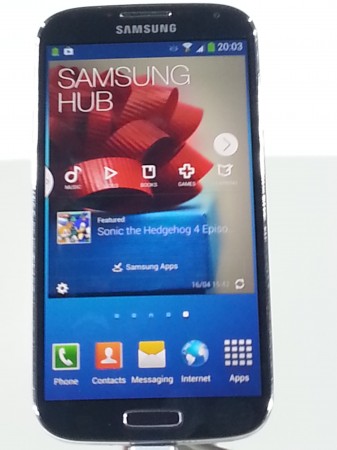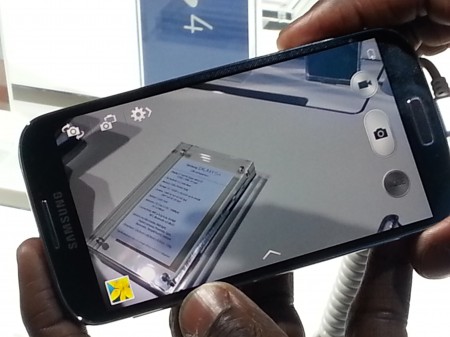 Specs
Android 4.2.2 (Jelly Bean)
Display: 5″ Full HD Super AMOLED 1920×1080, 441 dpi.
Processor: 1.9GHz quad-core, Qualcomm APQ8064T Snapdragon 600
Camera: main – 13 megapixel, front facing – 2 megapixel
WiFi: 802.11 a/b/g/n/ac, GPS, GLONASS
NFC
Bluetooth 4.0
Nine sensors: accelerometer, RGB light, Geomagnetic, Proximity, Gyro, Barometer
Temperature, Humidity and Gesture.
Storeage 16GB, 32GB or 64GB (depending on the model), plus microSD slot
Battery: 2,600mAh
Dimensions: 7.9mm thick, 136.6 length x 69.8mm width
Weight: 130 grams.
Below is the Samsung catchup video, which I'm proud to say features the back of my head at about 3 minutes! Woo! 🙂
http://youtu.be/2hcAN3rBBIs
Software
Air View
Much in the same way as the Galaxy Note II allows you to preview images, emails and video by hovering the S-Pen over them, the S4 will respond to your finger with no need to touch the screen.
Air Gesture
This allows you to swipe through images in the Gallery, pages it a book and tracks in your music playlist without touching the screen. As Jason Bradbury pointed out you'll be able to swipe through your recipe cards without getting flour all over the device. Whoa, got to get me some of that action!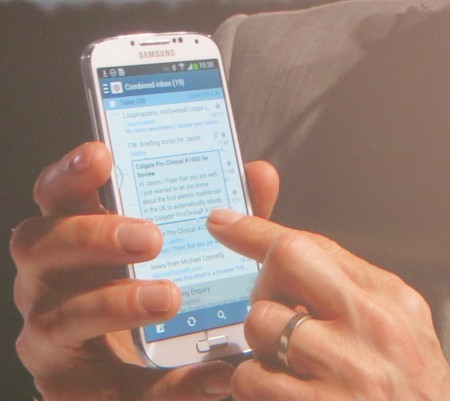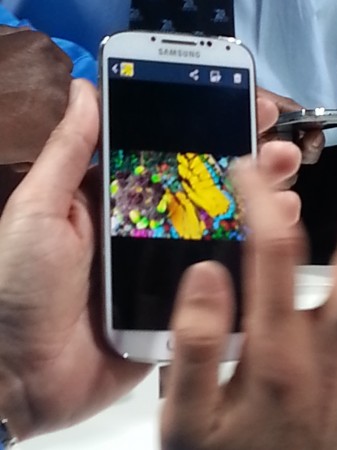 Smart Pause/Smart Scroll
The Galaxy S4 will watch you as you read and watch videos. No kidding, it's your own personal stalker! The Smart Pause feature stops playing video when you glance away from the screen for more than two seconds and start playing it again when you look back. In a similar way, Smart Scroll uses the front camera to track your eyes and scroll text and web pages.
I tested this after the presentation with interest, not because I think it's a useful tool, but because the function on the S3 and Note II that's meant to keep the screen on when you're looking at it doesn't work for me when I'm wearing glasses (which I do all the time). Smart Pause and Smart Scroll both worked for me with my goggles on. Win for the speccy geeks!
S Translator
Now this will be useful to all you international jet-setters out there: A translation app that does text to speech, speech to text and text to text conversion between ten languages with more to follow in subsequent updates. It seemed to work very well, considering the noise in the room, although I only speak English, so it could have been saying anything really!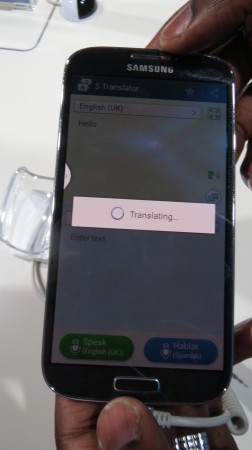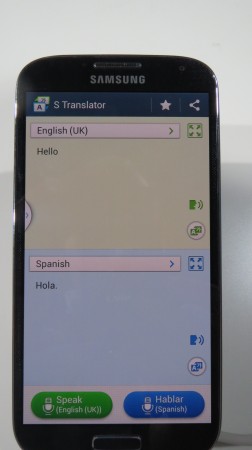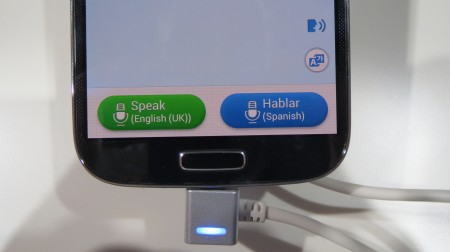 Samsung Knox
A sort of multi-profile account feature so you can keep your work and personal data separate the one device. This may also be useful if you want to restrict access to your kids when they should just be playing Angry Birds, although it was pitched as an enterprise function.
S Health
This suite of apps uses the handset's accelerometer and GPS to give you a heart-rate monitor, calorie counter, pedometer, and other heathy type stuff. I'm notoriously unhealthy and always pass on the offers of fitness devices when they come along for review, so I can't say whether S Health is a decent bit of keep fit software or not. It did look nice though…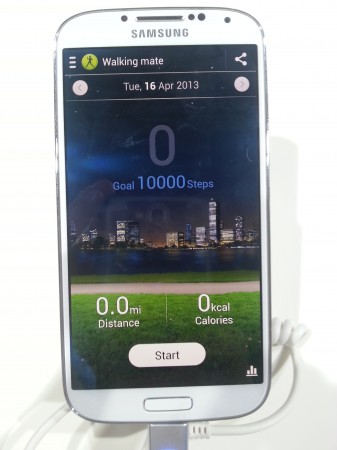 Dual Shot
This one's quite neat, if a little gimmicky. Dual shot uses both the front and rear camera simultaneously to take a picture of yourself taking a photo of something else and superimpose it on the main image. There's also some fun frames you can put around your grinning mug to make the shot nice and tacky. One for the parents and kids, or the heavily drunk posting to Facebook. I've even included a sample photo with me in a heart shaped frame. Feel free to print it an stick it on your wall.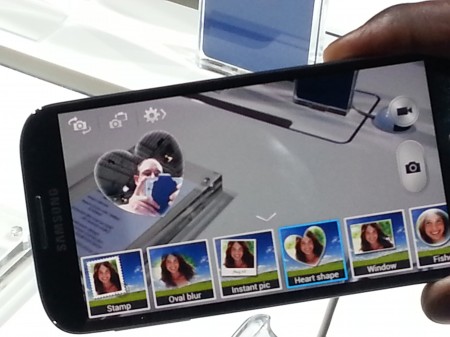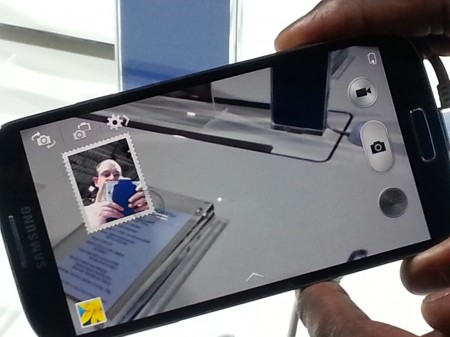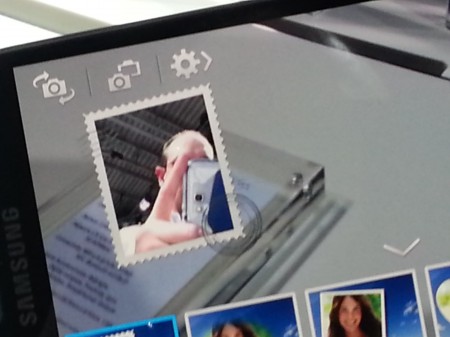 Group Play
If you've always wanted to share your music with other S4 users, or make a surround sound system using five handsets then you're in luck, because Group Play lets you do just that. Why you can't get some bluetooth speakers, I don't know, and for the price of five S4's you could get yourself a pretty good home cinema setup, but it's interesting technology all the same. Demos of this were hard to hear due to the room and the fairly quiet on board speakers (HTC One users take note).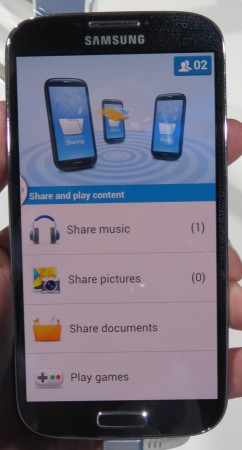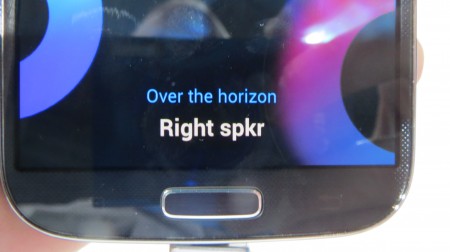 Other Tit-Bits
A couple of other things were announced which may be of interest. Firstly, the EA Games Vice President for new platforms Glenn Roland said that they will be releasing a special edition of 'Need For Speed Most Wanted' with a Porsche that won't be available on any other platform. They will also be launching other games that are optimised for Samsung (whatever that means). The other thing was that there will be a partnership with Michelin which gives a free restaurant finder and maps. A huge selling point, right?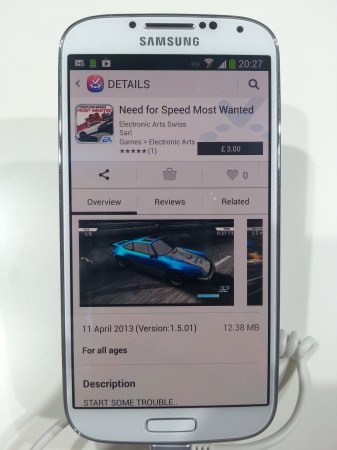 Conclusion
I asked a fellow blogger what he thought of the Galaxy S4, and he simply said, "Meh". In some respects I have to agree with him. OK, it's got beastly performance and a massive assortment of software and features, but for me its only real selling point is the screen. But what a screen!
In the gallery below I have included comparisons with the HTC One, Galaxy Note II and Nexus 4, dive in..