Last night Skype for Windows Phone 8 got a bit of an update. With the main fix being that any notifications for Messenger buddies are now on by default. Nothing huge but it's pleasant to see an app on the Windows Phone platform that in my opinion is streets ahead of the equivalent versions on other platforms.
The main thing I like about Skype for Windows Phone is how it integrates nicely into your phone book. Meaning a Skype call is only a few taps away.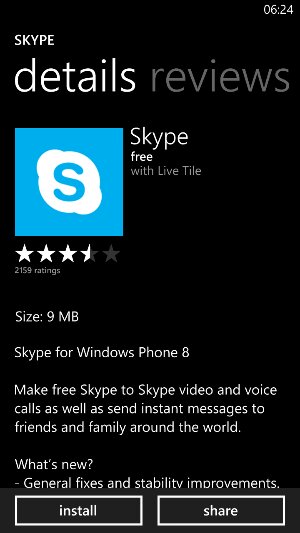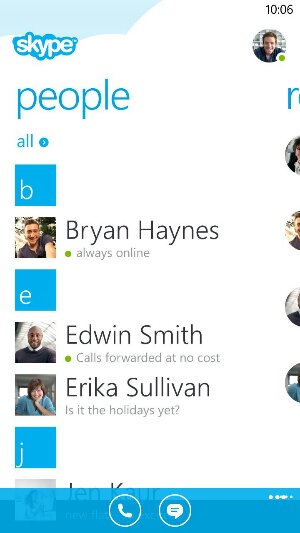 Skype forms an easy way to call foreign friends, call local friends over Wifi, or even to make Video Calls to other members of the team here. If you've yet to try it out head over to the Windows Phone Store Link at the bottom.
Today we have released an update for Skype for Windows Phone 8, version 2.5.

In this release, we focused on general improvements and reliability.

Get the updated version now from the Windows Phone Store.

We're always looking to improve your experience on Skype and pay close attention to your feedback. To get the latest news and tips, follow us on Twitter and Facebook, or join us on the Skype Support Network.

Full release notes for Skype 2.5 for Windows Phone 8 are:

New and changed features:

Message notifications for Messenger buddies are now on by default

Fixed issues:

– Skype crashing on startup for some users who signed in with Microsoft
– Message notifications sometimes had contact names separated with 20% instead of space.
– Video call button was disabled straight after accepting incoming contact request
– Video Calling Full screen local video preview was stretched sometimes
– Video Calling Incoming 720p video on portrait mode was zoomed in

Known issues:

– Audio on HTC 8X. Users on HTC 8X who have not updated their phone to latest firmware will experience muted microphone on audio calls. Update your phone using the in device over the air update capability
Windows Phone Store Link – Skype
Source – Skype Blog