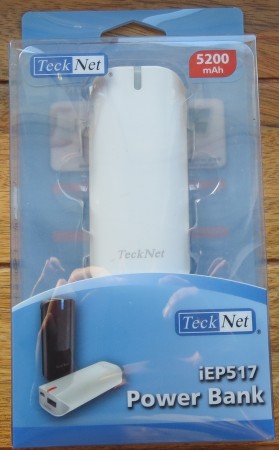 Batteries are a contentious issue when it comes to smartphones. It seems that no matter how much the phone technology advances, batteries can only just keep up. One day on a full charge is normal but, quite frankly, unacceptable.
There are various options available to ease your power struggles: from shells that one puts standard AA batteries in, to moulded phone cases which have batteries built in that clip over the back of the handset. In my opinion though, a generic rechargeable battery pack that can be used for any device is the only sensible option.
Backup battery power packs are becoming more and more popular these days. The sheer amount of portable tech we carry about means the likelihood of getting caught with a flat battery is greater than ever. To that end, rather than carrying spare batteries for every phone, tablet, GPS, etc. the battery pack is an ideal cure all.
Cue the TeckNet iEP517 USB 5200mAhPower Bank.
Good Points
Capacity to price ratio
Charge level indicator
Torch
Bad Points
No Lightning adapter
Felt bag sheds its skin!
Specs
Capacity: 5200mAh
Type: Lithium-ion
Input: 5V, 1A
Output: 5V 1A
Life Cycle: 500 charges
Size: 100 x 23 x 45 mm
Weight: 123g
Best price: £13.97
What's in the box
As well as the unit itself there's a USB to micro USB cable, a micro USB to Thunderbolt adapter, instruction booklet and a felt, drawstring bag to keep it all together.
As you can imagine, a box with batteries in and a couple of connectors really isn't the most stylish gadget, however, TeckNet have done a nice job of the design. The smooth, shiny plastic casing and multicoloured status LED lend it an air of class. I opted for a white one so it would be easy to find in my bag, but there is a black version available.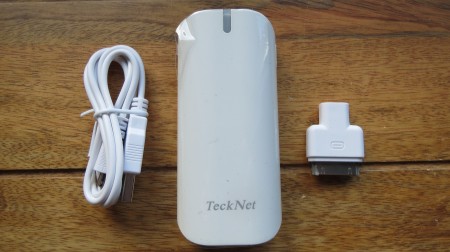 In use
The first thing that's needed is a full charge. Ironically, for this one requires a mobile phone charger or a computer with a USB port. Simply plug it in and the LED will start to flash. If it's between 0 and 33% full it'll flash red, 33 to 66% it's flash green and 66 to 99% it'll flash blue. Once fully charged the blue light will stop flashing and stay on until unplugged.
A nice little feature is that if you need to see how much charge the iEP517 has when not in use, simply press its button and the LED will display red, green or blue.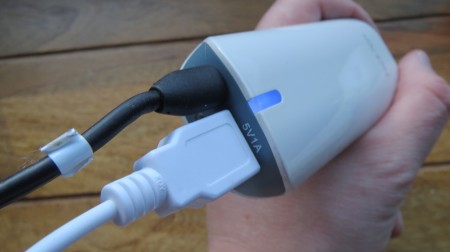 Tests
The manual states that a full charge will take six hours from a phone charger and seven hours from a USB port. I tested both methods and found the phone charger method to be about right at six hours, but my PC's USB 2 port took nearly nine hours to charge it.
I then set about charging various phones with it. The test required charging each phone from 10% to full.
Each handset was soft rebooted before being plugged in. They were then left on with the screen off. They had good mobile network signal, wi-fi on, and GPS off. Twitter and email clients were set to synchronise every five minutes. The iEP517 was recharged fully between each test.
Test results
| | |
| --- | --- |
| Handset | Time taken to charge |
| LG Nexus 4 (2100mAh) | 2hrs 30mins |
| Samsung Galaxy Note II (3100mAh) | 3hrs 15mins |
| Huawei Ascend G300 (1500mAh) | 2hrs 5mins |
| Nokia Lumia 520 (1430mAh) | 1hr 50mins |
Whilst observing the same test conditions I also charged my Nokia Lumia 520 from 8% to full, then my Note II from 8% to 62% before the iEP517 gave up.
N.B I'm afraid I don't have an iPhone, so I couldn't do that test, however, the figures above should give a good indication of how it would perform on an iPhone 4S's 1432mAh battery. (Why a 4S? It doesn't come with a Lightning adaptor, only Thunderbolt.)
Misc
The iEP517 also doubles as a torch! Click the button on the side twice and an ultra-bright LED comes on at one end. This is a stroke of genius given its size and shape, as it makes it the perfect handbag companion, performing dual emergency functions. And yes, it will still charge a phone at the same time.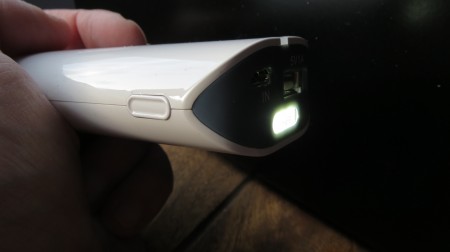 Now then, this felt bag; it looks rather classy, and would be a nice little finishing touch, except for the fact that it sheds black dust everywhere. It's meant to protect the battery pack from dust ingress, not cause it!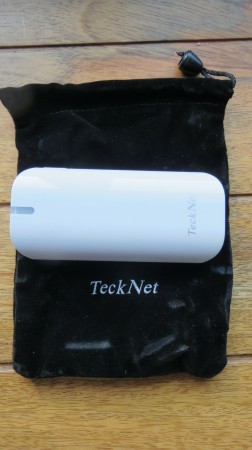 Conclusion
I've put the iEP517 through its paces over the past few days and it's impressed in every department. It'll recharge two average size phones whilst they're on, on a single charge and light your way down a dark ally at the same time. All for £13.97 including delivery. If it came with a Lightning adapter and a bag that didn't shed like a snake with dermatitis, then I wouldn't be able to fault it.
The price shown above is at the time of writing, and is available on Amazon