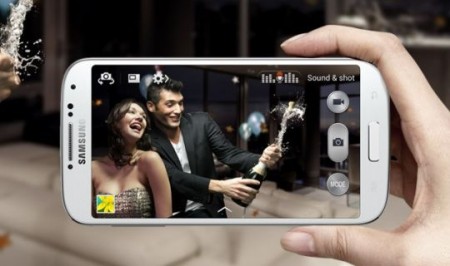 Samsung are ramping up the marketing machine as the Galaxy S4 nears release and, rather than using anti-Apple smeer campaigns like at the launch of the Galaxy SIII, they've published some videos demonstrating the software features they feel are the most innovative.
The Samsung Galaxy S4 was announced in a cringe-worthy music hall style at their event in New York. It had 'live' demonstrations of its most notable features, but the whole thing really didn't work in showing off its capabilities. In fact, it was so bad I was the only member of the coolsmartphone team who managed to stay awake until the end! Thankfully they've taken the time to put together three bite-size YouTube videos that give more of an insight into what some of the new 'S' software actually does.
First up we have 'Sound Shot', a way of recording a sound snippet at the same time as taking a still photo. This is meant to help the picture say more than it's limited thousand word vocabulary. I can't wait to attach the sound of me munching my dinner whilst tweeting a picture of it 😉
http://youtu.be/UrHYGO7r1rI
Talking of food, the next video demonstrates how the S Translator software can help you get a cab to a foreigner's flat and compliment them on their cooking without speaking a word of their language. Sort of Google translate without the need for an internet connection.
http://youtu.be/w-DfsqoqRn4
The final video showcases Group Play. This is the wireless streaming of sound to other Galaxy S4 handsets in the near vicinity. It's shown as playing the same music through several different phones, but it's also capable of using two for stereo or even more to give Dolby surround sound. Interesting? Yes. Major selling USP? See for yourself
http://youtu.be/apbFySn4oEU
Next Tuesday Samsung will be holding a press conference and hands-on event in London as part of the pre-release 'S4 world tour'. I'll be there representing coolsmartphone, so if you have any questions let me know in the comments below and I'll do my best to get the answers.