The Nexus 7 is a fine device however it isn't without its issues.
One of the most complained about is the lack of internal storage or a microSD card slot which leads to issues with how much information you can hold on your device.
There is now a project on Kickstarter looking to solve this issue and they are looking for backing for their Mini MicroSD Reader for Android Smartphones and Tablets.


Essentially it is exactly what it says on the tin.  A microSD card reaer that plugs into the USB port of your smartphone or tablet.  Together with the supplied software it then enables you to read microSD cards directly from your tablet or smartphone.
What does it do?

Well, it is just like a SD card reader that you use on your computer, except it is for Android tablets and smartphones that have MicroUSB port. You can use it to read/write MicroSD cards, copy files between your phone/tablet and a MicroSD card.

It supports MicroSDHC cards up to 32GB (max capacity by SDHC standard), and MicroSDXC cards up to 64GB (max capacity available on the market). SDXC standard supports cards up to 2TB — this reader should support future MicroSDXC cards of higher capacity up to that, but we have no way of testing it right now.
The reader is confirmed to work on the following devices:
Samsung Galaxy S2, S3, Note, Note 2, Galaxy Express; Class 1 support.
Motorola RAZR M, RAZR HD, RAZR MAXX HD, Xyboard 8.2″ Tablet; Class 1 support.
HTC One X+, Evo 4G LTE (Sprint), DROID DNA; Class 1 support.
Samsung Galaxy Nexus, Google Nexus 7 & Nexus 10; Class 2 support.
Nook Color, Kindle Fire (non-HD); Class 3 support.
Tablets using RockChip & AllWinner chips; Sonicview N710; Class 1 support.
Whilst the project has already reached its funding target it looks like a surefire winner and one that is certainly worthy of a little investment.
Full details of the project and how to invest can be found here along with a nifty information video and more images.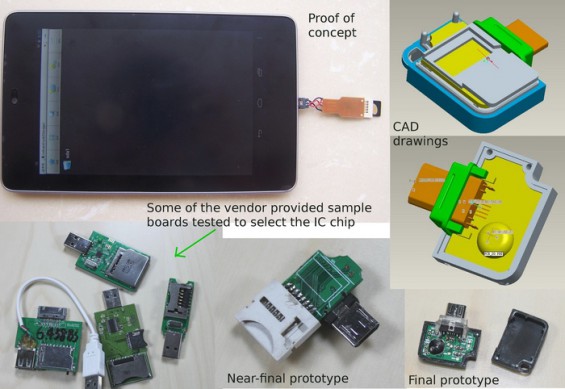 Please note that this device currently will not work with a Nexus 4….