I said Instagraph there not Instagram, Instagraph is a Windows Phone client for Instagram that actually allows you to upload your pictures.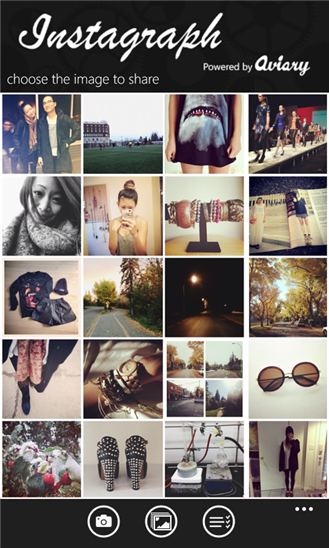 They've done this via a server upload loophole they've found. The app costs £1.99 which pays for the server and the time spent sorting it all out, the app also only allows 3 uploads a day. This is to avoid overloading the server. Another slight problem is that it only works for existing accounts, so you'll need to set up your account yourself. Maybe using the Android or iOS apps. You also will need to use another app to browse images or check comments. There also seems to be an issue with the app posting other people's pictures as well.
All in all I think I'll give it a miss and use the Android version instead. However in a few updates time no doubt things will have improved and I'll probably give it a go.
The first and only unofficial Instagram™ sharing App.
Upload your pictures to Instagram with your Windows Phone 8 device.

– sign in to your existing Instagram account
– select a picture from your album or take a photo with the camera
– apply one of the awesome filters powered by Aviary editor
– share your image to the Instagram network!

Easily share and edit pictures from other Apps thanks to the "share" and "edit" WP8 menu integration.

The publish operation time depends on the server load. You don't need to run Instagraph in background or even leave your phone connected, your request is securely queued and managed by our servers.

You can check the status of every publication on the history page at any time.

Currently we are limiting the number of daily uploads to 3 per user in order to guarantee a fast publish time. We are upgrading our server infrastructure to scale accordingly and we plan to increase or even remove this daily quota very soon.

This application does not use the Instagram™ API and is not endorsed or certified by Instagram™.
All Instagram™ logos and trademarks displayed on this application are property of Instagram™.
Image editor is from Aviary.com.
Windows Phone Store Link – Instagraph
Via – wpcentral