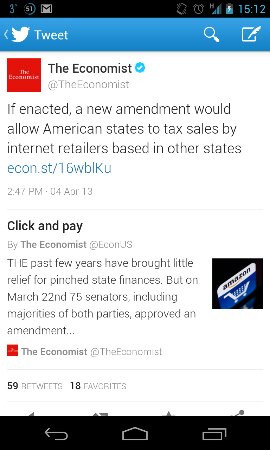 A mere 18 months after the release of ICS, Twitter have updated their official app with the main addition being a new Holo themed UI. As well as being much prettier, you can now horizontally swipe between the various tabs.
The app also features auto-completion of @usernames and #tags, as well as having full support for Twitter's various cards. The latter is something which (otherwise superior) third party apps lack, as they're denied access to the APIs.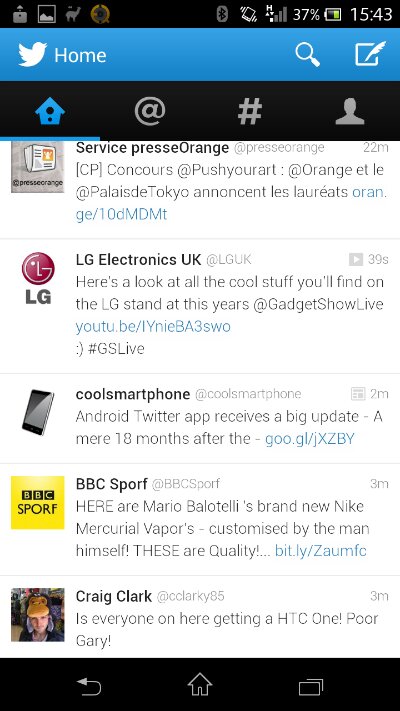 A particular feature I like is that when selecting a tweet, you are shown the conversation both before and after it. As far as I'm aware this is something unique, at least I haven't seen it on the likes of Falcon Pro or Plume.
However on the negative side, the app has very poor support for lists. Although they are viewable, they're hidden away under the (fairly useless) Me tab, and require far too many taps to get to. I'm a big user of lists, which make filtering masses of tweets far easier, and therefore don't think I'll be switching from Falcon Pro just yet.
That aside, it's a solid app… at least for phones! Unfortunately, (proper) tablet support is still nowhere to be seen. It's frankly embarrassing that Twitter would so severely limit third party apps, while at the same time having no official solution in place. Although, given how they hobbled the (previously fantastic) iPad app, perhaps it's no big loss. We can but keep our fingers crossed.