Temple Run. It's a game you'll have probably seen on the bus or train recently and basically features a guy or girl running along at great speed. Sweep left or right to turn at the appropriate time, up to jump and try to make sure that your character doesn't fall down.
Now this "new app" is available for Windows Phone. All great, you can get it here and it's free, which is even better.
But…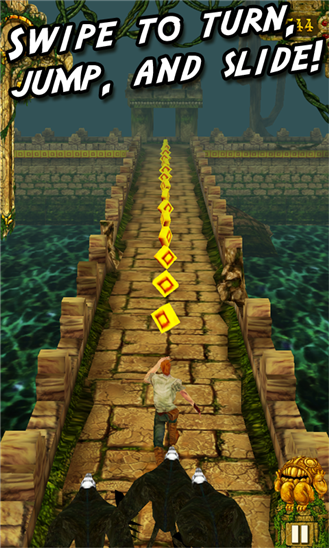 Doah, you knew there was going to be a "but" didn't you?
Yes, this isn't strictly a new game any more. It's been out on the iPhone for more than a year and Temple Run 2 has been out for a bit too. Oh, and if you bought a Windows Phone 7.x handset then you're left out in that cold, cold snow my friend. This is Windows Phone 8 only. You old-timers on a Windows Phone 7.x device can just go and take a walk..
Oh and one other thing, it doesn't support the Nokia Lumia 620 even though it runs WP8. Not enough memory apparently. Remember how we used to poke fun at Android for being fragmented?
Honestly, read the comments in this post and you'll see the reaction Microsoft is getting from their very own customer base. Sigh…
Source – Windows Phone Blog