It's that time of year again. We've just lost the weight we added on over Christmas and somehow I've finished off that box of broken biscuits. Now it's Easter, and (with my utter weakness for anything Cadbury) there's going to be quite a few eggs eaten over the next few days. Now Vodafone have added a range of Easter eggs to their Freebee Rewardz. They include these….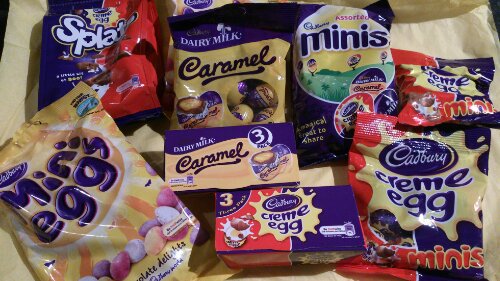 Nom! Nom!
Pay as you go customers with Vodafone just grab "Pointz" when they top up and you then get to claim instant Rewardz like an Easter break, 10% off holiday cottages or 2-for-1 meal vouchers. You can save your Pointz too, and redeem them against TV's, DVD players – even a family day at Cadbury World (we've been already and you get lots of free chocolate while you're there too). The more you top up (up to £15), the better they get and you could even win one of the Star Rewardz.
If you're still wondering how it all works, head here for a simple explanation. Meanwhile, I'm off to eat some check some of the eggs we've got ready for Easter.