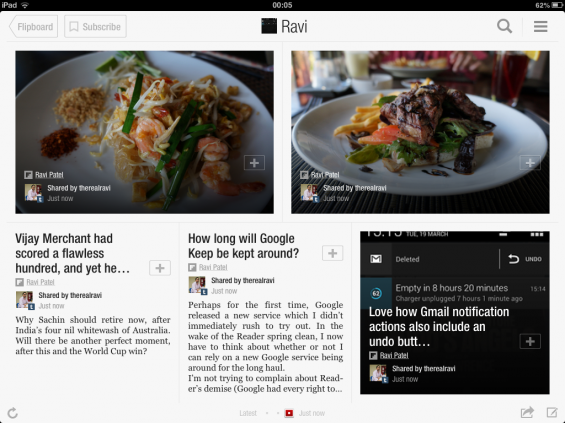 Flipboard has today hit version 2.0, and the big new feature of this release is the ability to create your own magazine(s). Borrowing a trick from Instapaper/Pocket/Tumblr, users can now Flip stories using a bookmarklet, instantly adding them to their very own magazines. These can be both public and private, with users able to subscribe to publicly viewable magazines. I had a quick go creating my own magazine featuring some on my writing and photography. It's incredibly easy to add content, with prominent "+" buttons everywhere.
Although the magazines are pretty enough, and could lead to some interesting creations, the main problem is that they are currently only viewable in Flipboard. You can share a link for your magazine, but without the app installed all you'll see is a landing page with links for Google Play / the App Store.
Magazines aside, the app has also been slightly beautified, although the changes weren't easily spottable for me. Still, it's a fairly big update and makes an already great reading experience that little bit better.
You can grab it now in the app store. An Android update should be coming soon.