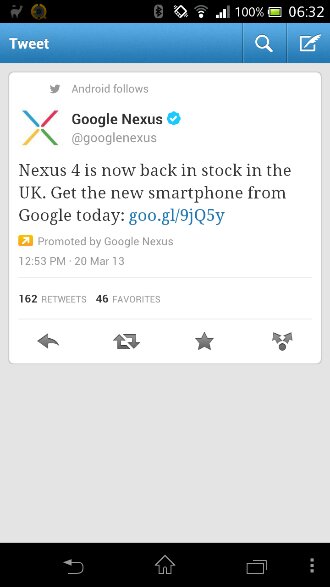 Missed it the first time? Missed it the second time and the third time? Why are you like eh? Quick, before you do anything else, get over to the Google Play store and bag your Nexus 4.
The 16GB version is on the shelves at £279, which is an amazingly good price for an Android 4.2 (Jelly Bean) device with a 4.7″ 1280×768 pixel screen (320ppi), Qualcomm Snapdragon S4 Pro CPU and 16GB of storage. The rest of the specs include the usual stuff – an 8 megapixel rear cam, 1.3 megapixel front cam, 3.5mm audio, GPS, DLNA, WiFi 802.11 a/b/g/n, Bluetooth and it's all powered by a 2100 mAh battery.
If you're budget won't stretch as far as the 16GB model, try the £8GB one for £239.
Now, I'll let you into a secret. This came back into stock yesterday when it got tweeted out by the Google Nexus team and, so far, they've not ran out, but you can never be too careful 🙂