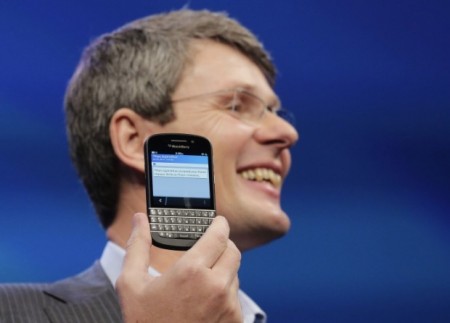 Yes, the moment hardcore keyboard BlackBerry users have been waiting for inches ever closer. After rumours that the company had temporarily refocused on bringing BB10 to its 7 inch PlayBook, some sort of delay has seemed inevitable.
Thankfully this won't happen as Clove has posted that the release date will be the end of April, and the SIM-free price will be £445.83 + VAT or £534.99 including VAT. Yes, it will only be available in black initially, but we still think that a BlackBerry still looks sweet in black.
We're fairly sure that the statement which gives the model number has a typo: the site has mention of the Q10 all over it, but the statement below does state the Z10.
"The Q10 is the model with the front facing keyboard, but to date has not been available.
Good news however, we can confirm that the first stock of the Z10 will be available at the end of April and the unit (initially available in Black only) will be £445.83 + VAT or £534.99 including VAT when you purchase it SIM FREE from Clove."
The reason I'm pretty sure its just a typo is that there are actually two different pages for BB10 products, this one for the Q10 and another for the Z10. Did someone have a doh! moment?
Source: Twitter