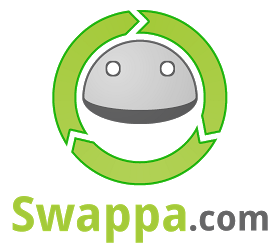 Many years ago eBay used to be fun, you could buy and sell goods confident that things wouldn't go wrong.
These days it is a minefield riddled with crooks exploiting loopholes in the returns process, if you do manage to secure a legitimate sale your then stung for listing fees, a seller fee and then PayPal take their cut as well, all in all you pay about 13-15% of your sale on charges.
Swappa have been around in the US for a few years now and they have just made their website UK friendly with prices in pounds and support for PayPal so if your looking to sell some phones or tablets and you don't fancy the trauma of eBay the head over to Swappa and sign up today.
You may have a few questions about this new service and Swappa have a FAQ section here.
The one thing that appeals to me is that they seem to be checking the IMEI numbers of all devices put up for sale. Which means if a device is stolen or an insurance scam then they won't be able to sell it via Swappa. Swappa was adopted by XDA developers as the preffered place to sell items in the US and it has a healthy selection of Android devices for sale. I might just be able to shift my last few devices now. Especially as there aren't any fees, apart from what little PayPal take about 3% if I remember correctly.
What criteria does a device have to meet to be listed on Swappa?
To sell your device on Swappa it must meet the following criteria:
The device must be fully functional.
You must be the owner of the device and legally able to sell it.
The device must have a clean ESN (not reported lost or stolen) and ready for activation.
If the device is a phone, it must be capable of making calls on its intended carrier network(s).
If the device is a tablet, it must be capable of connecting to its intended carrier network(s).
The device must be free of water damage. (Water damage is often indicated by a sticker near the device's battery that turns a solid color.)
The device's screen must be free of cracks, deep scratches and any other major damage. (Minor screen blemishes that do not affect functionality must be noted in the listing description).
The device must have fully functional battery, buttons and connectors (e.g. USB port, headphone jack, MicroSD slot).
The device must otherwise qualify for sale in accordance with our Terms of Use
How is Swappa different (better) than eBay and/or Craigslist?
Swappa does not allow junk devices.
One difference between Swappa and alternatives is that other services don't have any rules against selling junk devices (Swappa does). And other services don't necessarily require disclosure of damage or state of the ESN (if a seller doesn't reveal that information, then it's the buyer's responsibility to ask).
Read more about this on our Reducing Risks with Swappa page: http://swappa.com/risks
If you are buying or selling an Android device, there is no better place to do it than Swappa.
Streamlined listing and sale process tailored to Android devices
Android aware community of buyers and sellers
Swappa makes buying a pleasant, social experience
Credit – @mr_bridger