The HTC One and the Samsung Galaxy S4. They're both fantastic handsets, but which is faster? There's only one way to findout! FIGHT! A comparison with the benchmarking too Geekbench.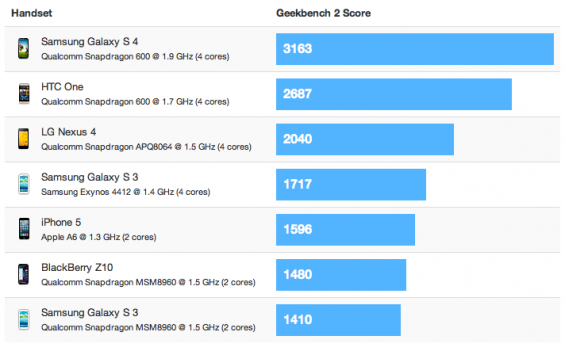 Speed and memory performance was compared and, by the looks of these results, the Samsung Galaxy S4 simply blew away the opposition. Now, speed isn't everything though. Battery life has to be considered too and we need to get an idea on how both perform in daily use first. However, there's some interesting highlights to these results, as pointed out by Primate Labs. Firstly, the Galaxy S4 seems to be twice as fast as the Samsuing Galaxy S3. It's also twice as fast as the Apple iPhone 5 and the Blackberry Z10, and that's only just appeared.
What are your thoughts? Is speed a key purchase decision?
Source – Primate Labs