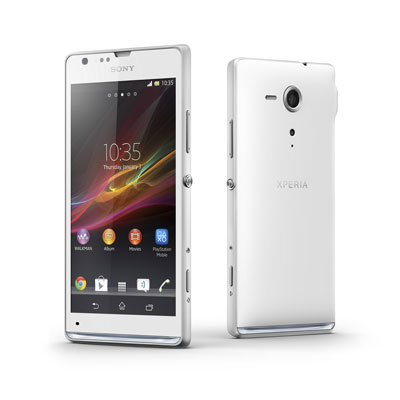 Sony Mobile have today announced two brand new Xperia handsets: the Xperia SP and Xperia L.  Featuring the stunning designs fans have grown to know and love, these new smartphones are added to the Xperia Z to complete Sony's Spring line-up.
The Xperia SP prides itself on its stunning 4.6″ HD Reality Display and Mobile BRAVIA Engine 2; which combined deliver superior brightness and one of the most intelligent smartphone screens around. With the BRAVIA Engine images are adjusted automatically so that thy're shown in the highest quality for the best user experience.
The body of the Xperia SP takes centre stage too, with a precision-crafted co-moulded aluminium frame forming the base of the smartphone. The SP also has the colour-changing transparent element which we saw on the Xperia S and Z, that flashes in a colour of your choice to acknowledge notifications.
Key features for Xperia SP
Precision crafted co-moulded aluminium frame
Super-bright 4.6" 720p HD Reality Display with Mobile BRAVIA® Engine 2
One-touch functions with NFC to display content on your TV or to share music and photos between devices
4G LTE for superfast entertainment and browsing
Unique 'transparent element' can be personalised to change colour when notifying you of all your incoming messages and calls. Or simply set it to pulse to the beat of your music to stand out from the crowd.
8MP fast-capture camera with "Exmor RS for mobile", HDR and Superior Auto for the best photos, even at night or against a strong backlight
Battery STAMINA Mode for optimum battery life
Available in white, red and black colour variations
Xperia L – the perfect smartphone camera experience

The stylish and functional Xperia L features an 8 megapixel camera with Sony's unique "Exmor RS for mobile" sensor technology for vivid colours and stunning clarity. HDR (High Dynamic Range) ensures that both your photos and videos are captured clearly, even at night or against a strong backlight. And with the dedicated camera key that goes from sleep to snap in just over a second even from a locked screen, this fast-capturecamera phone will ensure that you'll never miss another moment. Get the most out of your viewing experience with the high quality 4.3" FWVGA screen that is ideally suited to enjoy all of your content.
Key features for Xperia L
8 megapixel fast-capture camera takes sharp pictures in any light
Enjoy all your content on the generous 4.3" FWVGA display
One-touch functions with NFC to display content on your TV or to share music and photos between devices
Fast performance with dual-core processor
Battery STAMINA Mode for optimum battery life
Available in white, red and black colour variations