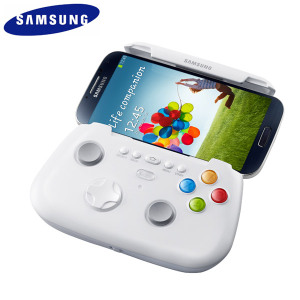 Along with last week's announcement of the Samsung Galaxy S4 came a plethora of awesome accessories to enhance the S4: the S Band Fitness Bracelets help with keeping track of exercise and work with the S Health app; the Wireless Charging Plates save the fuss of wires when charging, but the accessory that excited me the most was the Genuine Samsung Game Pad.
Here's the great news: it's thought to be available in May, so only a few weeks after the rumoured release date of the S4. Here's the not so good news, it's likely that the Game Pad will cost just shy of £90. This price doesn't really come as a shock though – most Gen Samsung accessories aren't cheap, so if you fancy the Game Pad and the S4 I'd suggest starting to save now!
The Game Pad is thought to come with 8 apps, but they'll be as many as 80 compatible apps available to download in time for the Pad's release. The Pad is powered by AA batteries too, so at least it doesn't need to be plugged in to be charged all the time.
Here's what intrigues me about the Game Pad… why does it look so much like an Xbox controller? Is there something Samsung haven't told us yet?