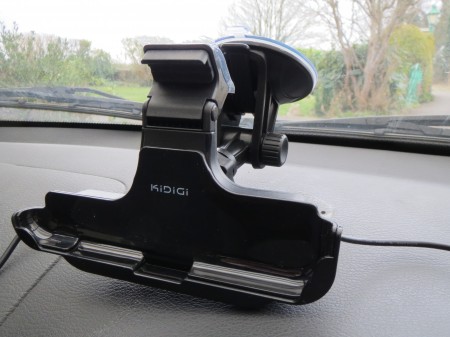 Most generic car kits just aren't man enough for the Samsung Galaxy Note II, so Kidigi have addressed this with a nice, meaty dedicated kit.
Kidigi are a specialist third party mobile technology accessories company from Hong Kong that caters for most popular handsets (they even do Blackberry Z10 accessories!). This is the first product I've actually bought of theirs, even though I've heard mixed reviews in the past.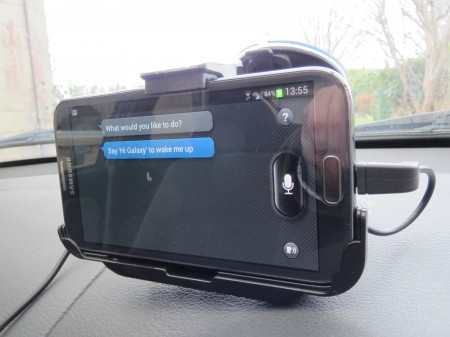 So, what's it like?
Good
Permanently wired design
Easy to put phone in and take out
Very sucky sucker
Bad
Doesn't dock, as such
Can be a little bit bouncy
First Impressions
The Kidigi car dock arrived in a very unassuming plain cardboard box, which didn't exactly scream quality. Once opened I was relieved to see that the dock does look the part. The box contained the cradle and arm separately, a Kidigi branded car adapter with curly cord, and an instruction booklet.
Being made from pretty much 100% plastic (much like a Samsung phone!), I was wary of build quality at first, but everything slotted together with satisfying clunks which gave me the confidence to trust it with my pride and joy.
The kit consists of two parts that I'm going to call the arm and the cradle. The arm has a windscreen sucker on one end, then an adjustable elbow joint. On the other end there's a ball joint and the attachment for the cradle.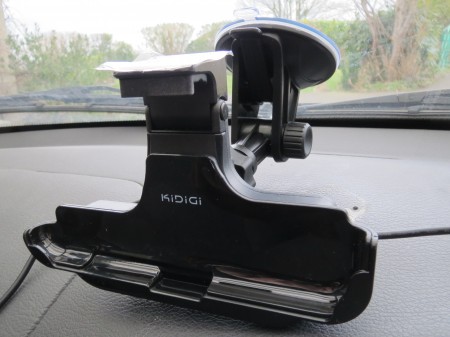 Suck it up
The sucker deserves a mention on its own because it's the suckiest sucker I've come across. I mean this thing could pull the windscreen in – even when it's not locked down. Beware when taking it off if you've got a crack in your screen!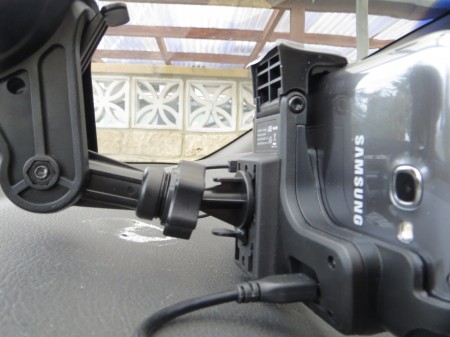 Big cord/little cord
The cradle itself has a micro USB connector on the back and a short cable coming out of the side. The idea is that one connects the car charger to the socket and leave it there permanently, then use the short cable to plug the phone in. This means the curly cord doesn't spring back into the foot well every time the phone's removed.
The big cord/little cord solution is simple, but I'd have preferred some sort of fixed dock, much like the OG genuine Samsung Galaxy Note car kit that James reviewed back in the day, into which the phone slotted and connected in one movement.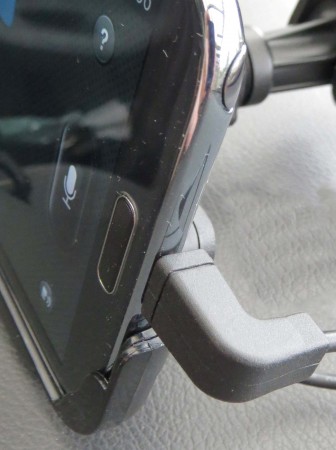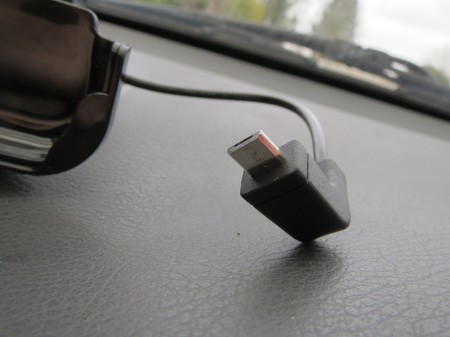 The handset itself sits in a channel on one of the long sides, then a padded clip folds over the other edge to hold it in place. At first I was sceptical at how well it would actually grip due to the small contact area between clip and phone, but it works remarkably well.
A nice touch is that there is an insert that, when removed, will allow enough extra room to fit the phone in when a slimline Cover-Mate (same manufacturer) case is on it.
This design means the cradle is best suited to being used in landscape mode, which is ideal for me, but it holds the phone nicely in portrait anyway.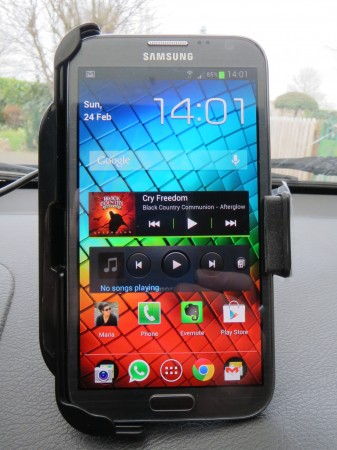 Bouncy bouncy
Whilst the handset is held well and the sucker is like a limpet, but the arm section is a little springy, meaning that on our pothole infested roads there are times when the phone appears to be bouncing around (I'm talking bouncy like an office chair, for example, not like a bouncy ball). This was a little alarming at first, but I've learnt to trust it now.
Conclusion
I went looking for a genuine Samsung car kit after using one with my original Galaxy Note because I was so impressed by it. It turned out that they weren't able to oblige, but all in all I'm pleased that I ended up with the Kidigi.
I got mine from Amazon for £19.99 including delivery, but at the time of writing they're out of stock. At this price it's great value for money. The only other place I could find one is Mobicity, but they're selling it for £32.39. I still think it's a reasonable car kit at that price, but not the bargain that Amazon was offering.