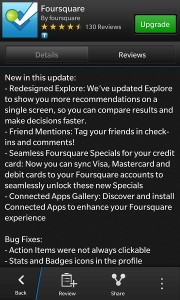 About time that Blackberry is getting some love from Foursquare – it's been a staple of blackberry users from its announcement on the original platform, now BB10 devices are getting the same love that Foursquare has splashed on iOS owners.
Along with the usual smattering of bug fixes that any update should bring, it also delivers on the following:
More compact Explore screen: the Explore screen is now the more compact version featured in the iOS app. Foursquare's goal is to make it faster to compare multiple venues, but it loses all its visual appeal in an attempt to emulate the Yelp search screen.
Friend mentions: friends can now be tagged — not checked in — in check-ins and comments
Visa and Mastercard specials: the specials Foursquare extended to Visa and Mastercard customers are now available on Blackberry, including the ability to link your cards within the app
Connected apps gallery: you can now find and add connected apps from the settings screen
This may come as no surprise, but BB7 devices and under aren't getting any love shown by foursquare this time around. There's a chance that this was checked. Repeatedly. Still, for those enterprising Z10 owners out there, you may want a direct link into BlackBerry World.
Yep, you can also tag your friends as you check in and of course hit them up on BBM. Why you'd want to do that if they're in the same location as you though is anyone's guess.
Source: aboutfoursquare