Time for a quick round-up on which networks will be picking up the Samsung Galaxy S4. Now, if I'm a betting man, I'd put £10 on all of the networks picking it up, but here's how things stand currently..
T-Mobile
T-Mobile have stated that they will carry the handset and have added the t-mobile.co.uk/galaxy page for you to register your interest. That redirects to the EE website.


Orange
T-Mobile and Orange are quickly vanishing in front of our eyes. The orange.co.uk/galaxy page also redirects to the EE website where you can also register your interest. This tweet was sent out to confirm.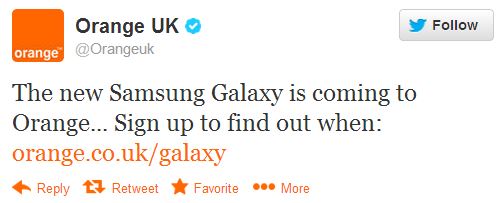 EE
The 4G network has confirmed and have given us the first bit of almost-concrete information about the phone… it'll be 4G capable. Well.. were you expecting anything less ? 🙂 Oh, and they have a registration page on ee.co.uk/galaxy.. which is the same one that the Orange and T-Mobile sites send you to.


Three
Bear with me here. I'm going to go number crazy. 3, aka Three will also have the S4. They've already dedicated a large chunk of their site to it and they've sent emails out to let people know. This tweet also went out yesterday.


Vodafone
We couldn't find anything on the Voda Twitter feed so I asked them outright and, just a few minutes later, they sent this…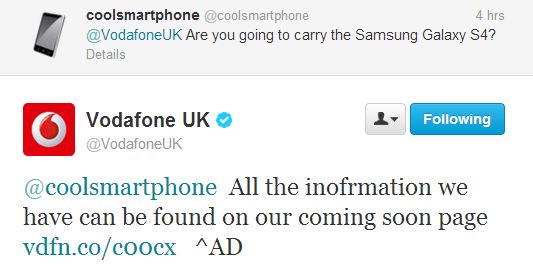 This pointed to a blog post written almost four months ago which does list "Samsung's next big thing" under the "definitive list" of upcoming handsets, so I think it's safe enough to say that it'll be approaching.
O2
Again, we couldn't find much on the 'ole O2 Twitter timeline so we asked them. This was their reply and it sent us off to this page where it's no-where to be seen. O2 have added the HTC One, LG Optimus L5 II, LG Optimus L3 II and Sony Xperia E, but not the Samsung Galaxy S4.
We expect that to change though, and we'll let you know when it does.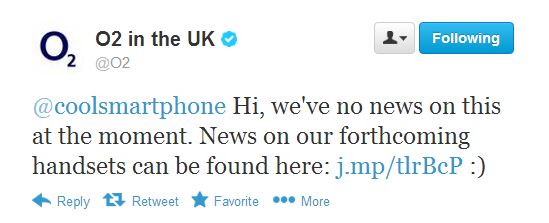 If you want to buy direct (without a contract) then Clove, Expansys, UR-Mobile and others have it listed, but no price as yet.
We've contacted a couple of the MVNO's – Tesco Mobile and Virgin Mobile, but haven't received a response as yet. We'll be covering the whole event live later, so tune in for more at 11.30PM GMT.