Cabling is always a bit of a nightmare. I can't be the only one who's got a knotted mess of cabling behind sofas, under beds and in the foot-well of my car.
The microUSB charging standard should be just that – a standard. For most of the time it is. Modern smartphones have a microUSB port for charging and plugging into your computer, but you usually get quite a lengthy cable in the box which can be a little too long if you have your phone right next to your laptop.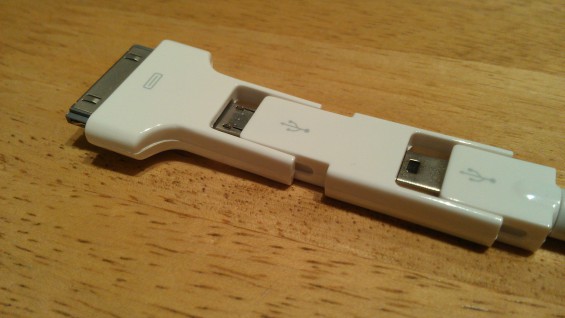 This then is the Magic Cable Trio. For a kick-off it's short, which is good. It's got a USB plug at one end which you can stick into your computer, wall charger or car charger. At the other end there's not one but three different plugs. At the end there's an iPhone / iPad / iPod connector (which won't work with the iPhone 5 or very newest iPad unfortunately). This then plugs into a microUSB and miniUSB connector that pass the necessary connections along.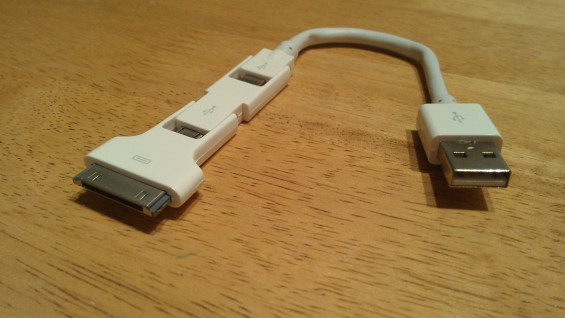 If you want the microUSB port, you just lift the iPad plug off and use that. If you want the miniUSB port then you lift both the other two ports. All three ports are connected together via a coupling system, so there's no chance of you losing them and you don't need to carry several bits around with you.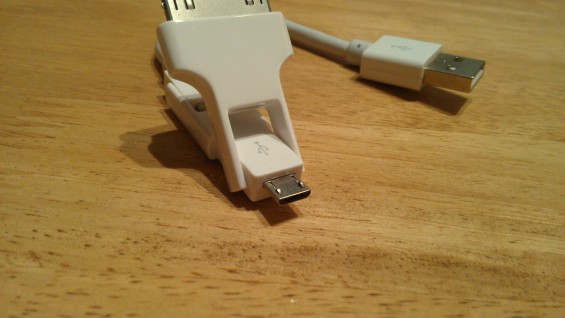 It is, in use, very useful indeed. I've got a little Bluetooth speaker which takes a miniUSB charging port. I use the microUSB port heavily and the iPad port a little less so. Indeed, if you really never intend to use the iPad / iPod port you can actually pop if off completely.
That cable, which is just 20cm, is just the right length when you have the phone right next to your laptop.
If you'd like to get yourself one of these, Amazon are offering them up at £17.09. It's a little more expensive than I'd like but it does exactly what it says on the box.